US Marine vet claims Dodgers discriminated against him, report says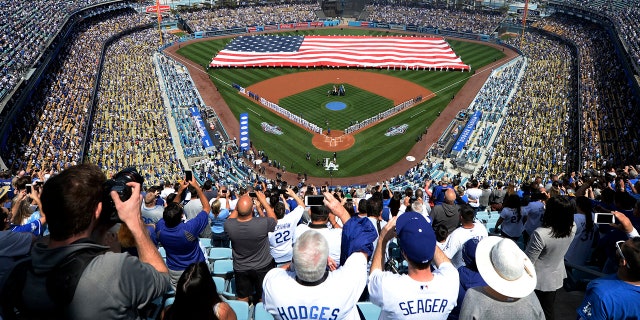 A former Los Angeles Dodgers front office employee and the son of Cleveland Indians manager Terry Francona reportedly told Major League Baseball that he was discriminated against when his contract was up last year.
Nick Francona, an Afghanistan war veteran, wrote a letter to the league office saying he believes he was "gradually pushed out" of his position as assistant director of player development.
He told the team that he wanted to get his head checked out at a Boston-based facility for veterans who may suffer from the effects of a traumatic brain injury stemming from the battlefield, Yahoo Sports reported Wednesday.
Francona graduated from the Penn's Wharton School of Business and joined the Marines to fight in the Afghanistan War in 2009 soon after. He commanded a scout-sniper platoon and was discharged as a captain, according to the report. Francona joined a consulting firm after his time in the military and broke into baseball in 2014, first with the Los Angeles Angels and then with the Dodgers.
According to Yahoo Sports, Francona was concerned about the effects concussions suffered during the war may have had on him. After a reported clash with Gabe Kapler, director of player development at the time, the Dodgers conducted a separate investigation into the matter.
The team told MLB investigators that Kapler was supportive of Francona and even showed an email Kapler wrote to the Dodgers' director of baseball operations, urging the executive to "support the (expletive) out of him."
However, Francona was reportedly bothered that Kapler suggested he take a leave of absence. The Dodgers told MLB investigators they were trying to be flexible and allow Francona to continue seeking treatment in Boston, where his mother lives, rather than in Arizona. Friedman also texted Francona a message of support.
Francona was let go by the Dodgers after speaking at an MLB Diversity Summit targeted toward veterans in March of last year. He was offered a job in research development, but turned it down because he considered it a demotion. Francona also rejected two settlement offers, the report said.
"As a highly visible institution, I think it is important for MLB to set a responsible example by making it known that there is no place for this type of behavior in baseball," Francona said. "A failure to do so would only confirm the reason so many people are hesitant to acknowledge they might have an issue in the first place."
The Dodgers have denied any wrongdoing.
"We can categorically state that Nick Francona's departure was not the result of any type of discrimination, and it certainly was not the result of his being a veteran," the team said. "This was confirmed by an investigation conducted by independent outside counsel. The Dodgers have the utmost admiration and respect for all of the men and women who serve or have served in the armed forces, and we are very proud of the veterans whom we employ."
MLB expects to have the investigation wrapped up within the next week.