UFC: Diego Sanchez Loses Close Bout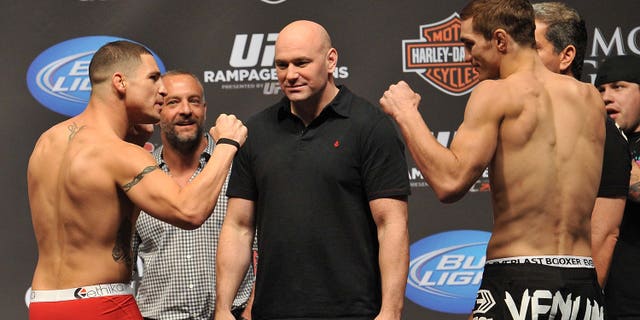 In what was an intense and thrilling match up, Ultimate Fighting Championships' welterweights Diego Sanchez and Jake Ellenberger started off fast and furious Wednesday night in Omaha, Nebraska with a shot at the title possibly on the line.
The crowd was firmly behind hometown hero Ellenberger chanting "Jake" in the opening round.
Earlier this week Ellenberger was given the key to the city.
Ellenberger controlled much of the first round with his striking and opened up a cut on Sanchez's nose with a hard elbow as the round ended.
The second round mirrored the first as Ellenberger kept control and even used some takedowns to establish dominance.
Early in the third, Sanchez took a more cautious approach but Ellenberger's striking seemed to hit their mark.
At one point Sanchez rocked Ellenberger, who then showcased his strength by taking Sanchez down.
On the ground Ellenberger gave up position and Sanchez took his back raining down punch after punch.
Ellenberger bled profusely as Sanchez repeatedly hit him for what seemed like an eternity.
Ellenberger miraculously escaped just as time expired at the end of the third round.
Ellenberger who for the first two rounds controlled the fight won a unanimous decision with all judges scoring it 29-28.
Sanchez came close to ending the bout and clearly won the third round but was unable to end the fight early due to Ellenberger's toughness.
"All I got to say is 'was that enough of a dog fight for you?'" Sanchez asked the Omaha crowd.
"I was hitting him with some hard shots, I thought he was going to go out," said Sanchez. "I was just trying to get the stoppage and it didn't go my way this time."
The fight was awarded "Fight of the Night" honors which gave Sanchez and Ellenberger a $50,000 dollar bonus.
Post Fight
After the fight, Sanchez expressed his disappointment that the Fuel TV main event was not a 5 round affair like all other UFC main events.
Many felt if the fight had been 5 rounds Sanchez's cardio would have taken over and he would have won.
This prompted UFC president Dana White to amend the policy and make Fuel TV and FX main events 5 rounds as well.
Sanchez's Intro
As Sanchez walked his way toward the Octagon, his stare was angry and he mouthed what appeared to be bible passages wearing a black-hooded sweatshirt and holding out a jeweled silver cross.
UFC commentator and fighter Kenny Florian said, "I wonder if he thinks Ellenberger is a vampire because he came out with that cross" before referring to Sanchez as "kooky."
Sanchez has expressed in recent interviews that he has rededicated his life to his Christianity after bouts with drugs and alcohol addiction.
Follow us on twitter.com/foxnewslatino
Like us at facebook.com/foxnewslatino