TRUCKS: Peters Powering Past Truck Field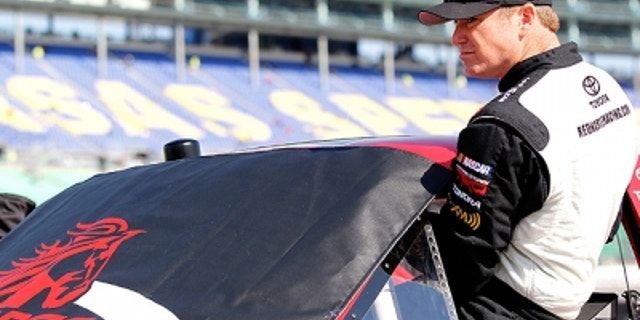 NEWYou can now listen to Fox News articles!
Timothy Peters and crew chief Butch Hylton used a weekend at Iowa Speedway a year ago as an opportunity to shake things up.
Twelve months later, Peters returned to Iowa and showed how much better he and the No. 17 Red Horse Racing Toyota Tundra have been since last summer.
Peters took his first pole of the season on Saturday night and beat Ron Hornaday on a late restart to win the first of two truck races at Iowa Speedway this season. The victory, the first of the year for Peters, extended his lead in the points race to 12 over Justin Lofton.
"We're just in a zone right now," he said. "We're doing everything right. Butch Hylton and I have a package that is comfortable for my driving style and I'm able to get out there and hustle the truck without jeopardizing the equipment."
For Peters, his recent breakthrough comes after years of decent but essentially unremarkable seasons.
Now 31, Peters has raced in the trucks series since 2005. After a spell as a development driver for Richard Childress Racing, he signed with Red Horse Racing for a full-time truck ride for the 2009 season.
Peters had always been a good driver, finishing eighth in 2009 and sixth in 2010 with a win at Daytona. But in their quest to turn top 10s into top-five finishes and win more than once a year, Peters and Hylton decided to use last year's race in Iowa as a chance to reevaluate what they were doing and how they could do it better.
Peters and his team went to work on the truck itself, tweaking the mechanics and the aerodynamic package to better fit his driving style so, as Peters said, he could drive the truck instead of the truck driving him.
Peters finished a respectable 11th, then went to Nashville and led much of the race before ending up third. He won the following week at Lucas Oil Raceway and wound up a career-best fifth in the points standings, even though he said he and Hylton didn't feel like they'd perfected their setup until the finale at Homestead.
"We just kind of went back to the drawing board and tried something different. And we finished 11th last year. But we were close, if that makes any sense," Peters said of his race at Iowa in 2011. "We got on a roll, and we've been building this notebook and we continue to build it and I continue to try and improve my skills."
This season, Peters has been the best of all the trucks series regulars.
He has top-10 finishes in eight of his nine races and has been fifth or better six times. He didn't have a pole or a win until last weekend, when he took care of both with a fast truck that maneuvered well through lap traffic and was aided by clean pit stops.
"We went there with determination. Wanting to run well, trying to keep things going positive for us from the momentum side," Peters said. "We were able to sit on the pole. That doesn't make you cocky but it gives you confidence...and throughout the race we were consistent across the board. We led a lot of laps."
The renewed focus has extended beyond his notebook. He has also incorporated film study to improve, among other things, his restarts.
That work paid off last weekend. After Hornaday took the lead on a late restart, Peters got him back with 10 laps left and hung on for a victory that helped show that Peters now has the truck to beat in this year's championship race.
"The big key is not to get comfortable. Because as soon as you get comfortable I think you can get the rug ripped out from under you at any moment," Peters said. "It's a deal to where you constantly have to be trying something different."