Tony Romo says Dak Prescott is 'the man' after thrilling Cowboys win over Steelers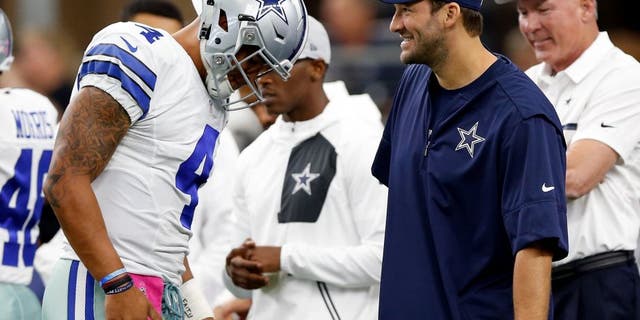 It's tough not to be a fan of Dak Prescott, even if you're Tony Romo. The Dallas Cowboys rallied for a thrilling 35-30 win over the Steelers on Sunday, thanks in large part to the franchise's rookie duo of Prescott and Ezekiel Elliott.
Prescott completed 22 of 32 attempts for 319 yards and two touchdowns while Elliott ran for 114 yards, including the game-winner with nine seconds left.
After the come-from-behind win, Romo, who is still recovering from a back injury he suffered in the preseason, was overheard talking to Cowboys executive Stephen Jones.
Romo didn't mince words about what he thinks about Prescott.
"That ain't [expletive] easy, and he's the man," Romo said of Prescott.
High praise from the franchise quarterback, who before Sunday's victory reportedly was OK with backing up Prescott.
After the game, owner Jerry Jones said the team will ride the hot hand of the rookie quarterback.
The Cowboys have suddenly gone from a team that couldn't win without Romo to one that apparently doesn't need him on the field anymore.