Title contenders thinking of Wilson as they prepare for championship fight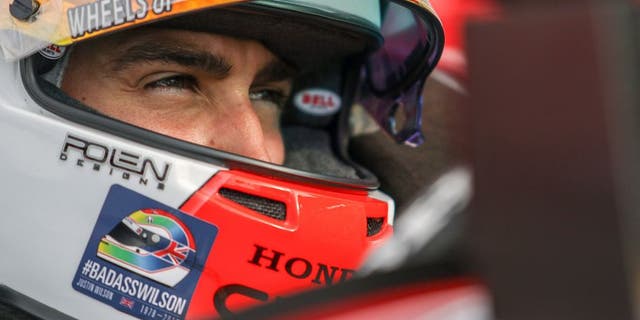 SONOMA, Calif. -- The six drivers in mathematical contention for the 2015 Verizon IndyCar Series championship were back in action Friday at Sonoma Raceway, where Sunday's Go Pro Grand Prix of Sonoma will determine the title winner.
But it was also a time for each of them to remember Justin Wilson.
As each of the six drivers talked about their chances at winning the IndyCar Series title, they also took time to give their thoughts on the late 37-year-old driver from Sheffield, England.
JUAN PABLO MONTOYA, IndyCar Series points leader, Team Penske:
"I met Justin in 1995 when I moved to Europe, to race in Europe. Even with Helio Castroneves, Helio was in F-3 and Justin was in Vauxhall Juniors when I met him. I always used to joke about it, 'How do you fit in Vauxhall Juniors?' It was like a Formula 2000 car, and you have no idea how he could squeeze into the car.
"Like everybody says, he was just a really nice guy and also seemed to be a great family guy. It's just a tough day."
GRAHAM RAHAL, Rahal Letterman Lanigan Racing and a former teammate of Wilson's at Newman Haas Lanigan in 2008, second in the standings 34 points behind Montoya:
"It has obviously been a tough week. Justin, going back and competing with him in 2000, I remember when I was in Atlantic he was always such a friendly guy, approachable guy. I got to race against him in 2007. In '08 we were teammates. I was still so young then, really pretty well clueless as to what I was doing.
"Really I think he looked at me as a guy that there was an opportunity there to help. A lot of teammates, we're obviously there to help each other, but still in many respects we're there at competition. He was always a guy that I felt looked at what was for the betterment of the team, looked at the bigger picture far more than individually.
"I think that's even shown, going back and racing wheel-to-wheel with him just a couple weeks ago in Mid-Ohio. Had it been pretty much anybody else in that scenario, I think I would have been a lot more nervous. But I knew he was going to be fair and square at all times, always give you space, race you hard and clean.
"But as these guys said, he was a hell of a talent. I've never seen somebody who could get so much out of a car that was average. That's the truth. Never experienced it. But I think a far better human being than even that. So it's definitely a big loss. It's a hard one to swallow. But go out there and try. I feel like he's had such an influence on my career over time, try to win a championship for him this weekend."
SCOTT DIXON, Target/Chip Ganassi Racing, third in the standings, 47 points behind Montoya:
"I think everybody says the same thing about Justin. He was a very kind person, probably one of the most honest and genuine people in this kind of racing. This kind of racing doesn't always produce that.
"It's just extremely tough. It's tough for the family, everybody in this community. Yeah, I don't know really what else to say. Apart from being a phenomenal driver, achieved a lot, with for sure more to come. I think it was just really a person, who he was, very unselfish person."
WILL POWER, Team Penske, defending series champion, fourth in the standings, 61 behind Montoya:
"For me, he was a guy on pit lane I never saw anyone have any beef or problem with. Just a really, really good person, fantastic human being.
"As far as racing goes, I felt like if he had been in a big team, he would have won multiple championships, 500s. I've never seen anyone who is able to follow so closely in turbulent air, race very aggressively but cleanly.
"It's surreal what happened to him. He's just an all-around great guy. It's a massive loss to the motorsport community."
HELIO CASTRONEVES, Team Penske, fifth in the standings, 77 behind Montoya:
"Very similar to what Will was saying -- for us, whether you're on the racetrack, outside the racetrack, Justin obviously was always a polite guy. When we decided to have a drivers' association, we selected him to be the spokesperson from us. The way that he speaks obviously was always in a nice way. Even if somebody tried to attack the drivers, he would respond in the best way as possible.
"So just to show that everybody had the same opinion on it -- the guy was great obviously in the car. I have never been his teammate, but I understand he was willing to give all the position, even to be comfortable in the racecar, to give somebody else to be even more comfortable. Especially because he was such a tall guy, that's what's amazing, the talent that the guy had, it was just incredible.
"Today motor racing, no question, is sad about it."
JOSEF NEWGARDEN, CFH Racing, sixth in the standings, 87 behind Montoya:
"I think what I would add, especially for young drivers, they ask, 'Who do you look up to, who do you respect the most on the circuit?' It's difficult for racecar drivers to respect everyone. At least as a driver, you don't respect every driver out there. I think every single driver respected Justin Wilson. That's nearly impossible to do with racecar drivers. It just doesn't happen.
"I think he was special from that standpoint. Literally every person respected Justin in many ways.
"It's a big loss. Some people knew him better than others. I don't know a ton of guys super well, but he was one of the dudes I knew better than others. It's just a very difficult deal."
**
Be sure to catch Bruce Martin's Honda IndyCar Report on RACEDAY on FOX Sports Radio every Sunday from 6 to 8 a.m. ET.