The <i>Other</i> Football: Americans may want to get to know Mexico's Liga MX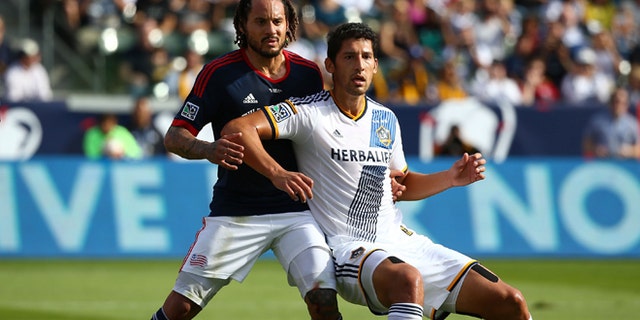 As Mexico's Liga MX second season gets underway, I'm on a mission to learn more about the league.
The first thing to know is that its season is divided into separate seasons and playoffs, the Apertura ("Opening"), which takes place in the fall, and Clausura ("Closing"), which is going on now.
I can honestly say that I've never watched more than a few minutes of a Liga MX game, while flipping through channels.
I want to know why U.S. defender and former L.A. Galaxy star Omar Gonzalez and other Americans have opted to head south of the border to ply their trade.
I want to figure out whom I should support, so Steve Graff, an expert on all things Mexican soccer, agreed to answer a few questions.
Graff is a contributor to FutMexSource. He also writes on the Mexican game in Prost Amerika and maintains his own blog, "Futebol Underground."
Fox News Latino: Why should I watch?
Steve Graff: It is extremely entertaining, and you will tune in knowing you are going to get what U.S. soccer often lacks – vision, improvisation and a willingness to try things. For new soccer fans in the U.S., Liga MX is the best league in CONCACAF. A team outside of Mexico has not won the CONCACAF Champions League/Champions Cup since 2005.
There will be plenty of drama, plenty of flow and on-the-field play. There will be some tactical work, and the game can often move quickly from end to end.
For new people, adjusting from the back-and-forth nature of a lot of American sports to the more controlled nature of fútbol, especially at the higher levels, Liga MX is a good starting point.
FNL: Where does Liga MX stand in the list of world leagues?
SG: The International Federation of Football History and Statistics (IFFHS) ranks Liga MX as the 20th strongest league in the world.
In terms of money to pay players, Mexican clubs are better off financially and can pay better than almost anywhere else in the Americas – with the exception of some in Brazil, Argentina and top-of-the-line wages in MLS. That helps a lot with attracting players.
That being said, Tigres U.A.N.L., from outside Monterrey, became the poster child for what's right with Mexico. They became only the third Mexican finalists in the Copa Libertadores, and managed to add in top talent – France international striker André-Pierre Gignac as well as [young] wingers Jürgen Damm and Javier Aquino. All of whom helped long-time manager Ricardo "Tuca" Ferretti transform the team into not only Copa Libertadores finalists but [also] earned them the 2015 Apertura title.
FNL: How does Liga MX do in ratings in the U.S.?
SG: In Spanish, many matches can exceed an average of a million viewers. The playoff matches, and big derbies – El Clásico Nacional (Chivas vs. America), El Clásico Joven (América vs. Cruz Azul), El Clásico Tapatío (Atlas vs. Chivas) – can attract [as many as] 4 to 6 million viewers. It is the most watched soccer league in the United States.
FNL: Which are the teams to look out for?
SG: Tigres are one of the better teams right now, as are Apertura finalists Pumas from Mexico City. Tijuana also just hired Miguel "Piojo" ("Louse") Herrera, the flamboyant former Mexico coach who [became] an Internet sensation.
As the season continues, watch out for not only Puebla (who are also in the Copa Libertadores) and Pumas, but also Toluca – one of the teams that has always found a way to stay near the top of the table and make it to the playoffs.
FNL: Americans in Mexico?
SG: Nine U.S. players either started or saw significant playing time last weekend, and seven of those played the full 90 minutes.
Of the five players Mexican teams signed this winter from MLS, only one was not an American (Xolos' Juninho). Two of them started and played the full 90 minutes right away – Omar Gonzalez (Pachuca) and Jorge Villafana (Santos Laguna).
This is all in addition to the two Americans who are full Mexico internationals – Isaac Brizuela and Miguel Ponce – and very much in the rotation of El Tri.
I think with the added interest of top tier American players and the competitive nature of Liga MX, I'm in. I'm especially looking forward to the battle for relegation, sadly something one can't enjoy with MLS.
Video of the week
Comeback of the season? Tranmere Rovers of England's National league came back from 3-1 against Barrow with a minute left. Tranmere won 4-3.

Tranmere Rovers Score 3 goals in INJURY TIME... by wittyfutty
From the wires
Former FIFA vice president Alfredo Hawit has been extradited to the United States to face bribery charges.
The Swiss justice ministry says Hawit was handed over on Wednesday to two American police officers in Zurich who accompanied him on the New York flight.
Hawit, from Honduras, was interim president of the CONCACAF regional governing body when he was arrested in Zurich on Dec. 3.
U.S. prosecutors accuse him of accepting bribes totaling millions of dollars linked to the sale of marketing rights to football tournaments in Latin America.
The FIFA ethics committee suspended Hawit for 90 days after his arrest.
Hawit followed Jack Warner and Jeffrey Webb as CONCACAF presidents indicted in the sprawling U.S. Department of Justice investigation of bribery and corruption in international soccer.
The Associated Press contributed to this report.