Texans WR Strong learning value of sacrifice in the NFL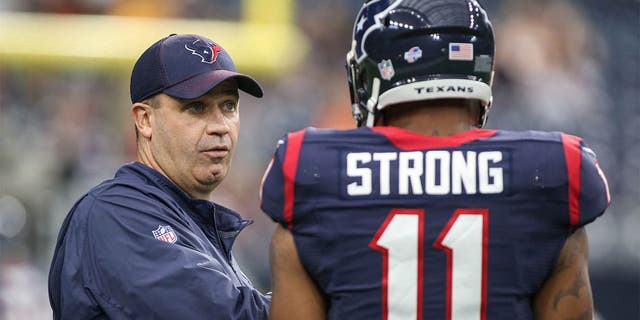 Houston Texans wide receiver Jaelen Strong has helped turn tough love from the coaching staff into a productive preseason performance.
Strong, a third-round pick out of Arizona State, has two touchdown receptions though Houston's first three exhibition games.
It's a noticeable improvement for the rookie, who was featured on 'Hard Knocks' two weeks ago being lectured by coaches. Strong credits advice he's received from veteran receiver Nate Washington and receivers coach Stan Hixon, among others, for helping him settle in during camp.
"Study, study, study, study," Strong said, per ESPN's Tania Ganguli. "Sacrifice a lot of things. I'd rather give up everything just to be perfect on the football field. That's just how my mindset has changed. Before I was trying to take little pieces here, little pieces there. You've got to make that sacrifice."
Strong, who was taken with the 70th pick in the draft, has impressed the coaching staff with his skillset in camp.
"He's improved every week," Texans coach Bill O'Brien said. "I think that he's taken the coaching to heart. He's a very talented guy. He's big, he's strong, he's a very instinctive player, he makes contested catches. I think that he's improved every week. The key for Jaelen is the key for every rookie, is to keep improving."
The 21-year-old said Washington has helped provide valuable perspective on what it takes to be successful in the NFL.
"He told me he's in his 11th year and he's still trying to make the team," Strong said. "There's always somebody coming for your spot. Always somebody trying to take that food off your plate. Granted these are your teammates, you go out there to win together. But it's your job. This is how you feed your family. Everything you do you've gotta do it the right way."
(h/t ESPN)