Tennessee's Josh Smith arrested for alleged domestic assault of roommate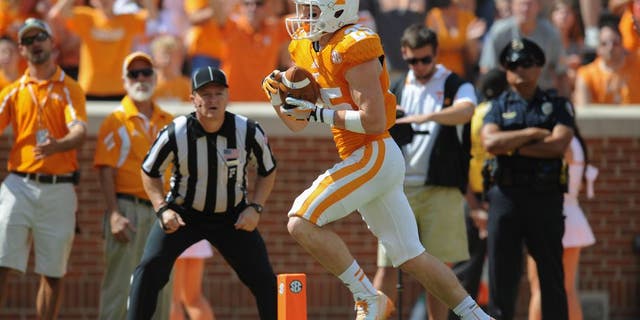 KNOXVILLE, Tenn. -- Tennessee wide receiver Josh Smith was arrested Saturday for an alleged domestic assault after a fight with a roommate.
Knoxville police say roommate Kennedy Foster had a bloody face and swelling to his left eye, lips and nose after a fight in their home on Friday night. Smith was released on bond, police said Saturday.
Tennessee athletic department spokesman Tom Satkowiak said "we are aware of the situation."
Keith Stewart, a lawyer for Smith, said Smith is cooperating with police in the investigation.
According to the police report, Smith said he and Foster were drinking Friday night when Foster started coughing severely and went to his room. Foster told police he locked the door. Smith said he "kicked the door down" out of concern for Foster's well-being. Smith indicated Foster looked at him as if he were an intruder and Foster tackled him, clawed him in the face and started swinging at him.
Smith said Foster went after another roommate, causing Smith to get back involved "to break up the altercation." Smith told police he kicked Foster in the face twice while Foster was on the ground. Smith then called his parents, who took Foster to the hospital.
Police said Foster had difficulty remembering the chain of events, and Smith had marks "consistent with clawing on his neck and cheek as well as a mark on his nose and lip."
Stewart said he expects Smith will be exonerated after a full investigation.
Smith, who will be a fifth-year senior this fall, caught 13 passes for 97 yards and one touchdown last season. He has made 18 career starts.