Teenage Mutant Ninja Turtles coming back to Chicagoland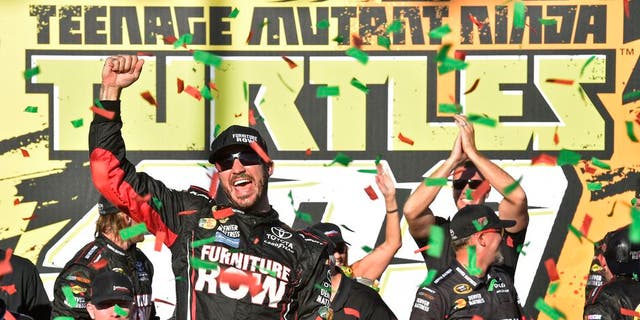 The Heroes in a Half Shell are headed back to Chicagoland Speedway and the opening race of the Monster Energy NASCAR Cup Series playoff season.
The Sept. 17 Cup race at Chicagoland will be dubbed the Tales of the Turtles 400 and it will kick off NASCARs 10-race, season-ending playoffs.
The return engagement means fans will see a lot of the Teenage Mutant Ninja Turtles-themed activities on race weekend, including a fan meet-and-greet with the Turtles and a ticket package that includes a Tales of the Turtles DVD.
In an exclusive interview with FOXSports.com, track president Scott Paddock said he was pleased that Nickelodeon agreed to bring the Turtles franchise back for a second season after a successful partnership last season when the race was called the Teenage Mutant Ninja Turtles 400.
Were thrilled because media companies like Nickelodeon are very activation-savvy, Paddock told FOXSports.com. Theyre very promotional oriented. So when you have an entitlement partner like that allocates a lot of resources on promoting your event and secondly, doing a lot on-site that really enhances the guest experience, thats a huge benefit from our end.
Paddock said that in addition to having the Turtles at the track, he expects Nickelodeon to bring other on-air talents to the facility. Theres also Turtle-themed NASCAR merchandise already available through the NASCAR.com superstore.
Last year, eight vehicles in NASCARs top-three divisions carried special Turtles paint schemes during the Chicagoland weekend and Paddock expects this year will produce another eight to 10 special paint schemes.
Being the first race of the NASCAR playoffs helps, and so does the location.
It differentiates us in terms of the 36-race schedule, Paddock said of the tracks race date.
I think the (NASCAR) industry loves coming to Chicago, said Paddock. So I think thats been a boon. And as I like to say, big events become even bigger in a market like Chicago.
And since it is the first playoff race, having NASCARs support helps, too.
NASCAR has recognized that a good, successful kickoff to the playoffs typically has a healthy halo effect on the remaining nine races, said Paddock. So they have tended to invest resources in Chicago for a successful kickoff. We and are partners have benefitted from that as well.