Stipe Miocic: 'Keep doubting me' and 'I'm going to keep shutting you up'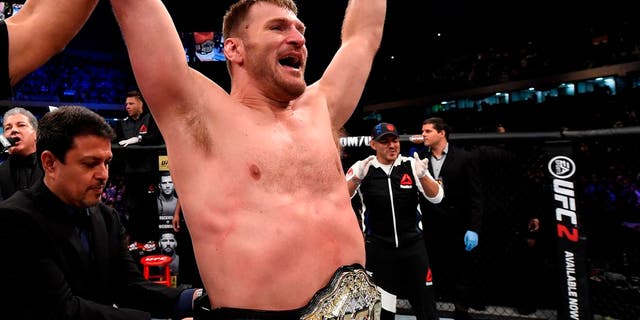 Stipe Miocic knows all the facts about the heavyweight title.
He's heard how no champion in UFC history has ever defended the belt more than two times and that includes a laundry list of legends like Hall of Famers Mark Coleman and Randy Couture.
Still, defying the odds is something Miocic does best and that's why he truly believes he's the one who will break through that glass ceiling to defend the heavyweight title on more than two occasions.
"Keep doubting me, please. I love it. I'm going to keep shutting you up," Miocic told FOX Sports ahead of his fight against Junior dos Santos at UFC 211.
"Just keep telling me that I'm not good and I'm not going to win and I'll keep shutting you up."
Part of Miocic's confidence actually stems from his first fight with dos Santos back in 2014.
On that night, dos Santos earned a hard fought decision over Miocic, which was only the second time the Cleveland, OH native has suffered a defeat in his career. As heartbreaking as it was to suffer that loss, Miocic also believes that fight was the turning point in his career that eventually brought him to the championship.
It might sound strange but Miocic is actually grateful to dos Santos for what happened in their first fight because it gave him everything he needed to know he could hang with the best of the best in the UFC before one day becoming king.
"I'm at where I'm at because of that fight. I want to thank him for that fight," Miocic said. "Because thats where I'm at today because of him. I put myself in that position. He's an animal. He's a former champ and he's going to stay a former champ because I'm going to stay champ. Fighting him changed everything. I made a comment to my coach actually that night, I said if we fought tomorrow, I'd beat him. Because I knew what I did wrong and I knew what I had to do.
"Things changed. Come see May 13, see what happens."
Mark J. Rebilas-USA TODAY Sports
The grueling war with dos Santos was also the first time Miocic had prepared for five rounds much less actually gone that far into a fight so it was a learning experience for the future.
Since that time, Miocic has earned four consecutive knockouts including his title fight victory over Fabricio Werdum as well as his first defense against Alistair Overeem this past September at UFC 203.
But it was all predicated on that 25-minute battle with dos Santos that not only showed Miocic he belonged amongst the best fighters in the world, but it forced him to get that much better so he would never suffer through another loss like that again.
"What doesn't kill you makes you stronger. It showed me that I have everything I need to be champion. I'm getting more and more amped thinking about it and thanking him," Miocic said. "It's going to be a lot different on May 13, I'll tell you right now. I am a completely different person. I feel like nobody gives me the props, which is fine, I love it. I love being the underdog.
"I always feel like I'm the underdog. I feel like I'm the underdog in this fight cause he beat me the last time and everyone thinks he had a good fight against Ben Rothwell. Good for him. Nothing's going to change. Make me the underdog. I love shutting people up."
Miocic has faced his fair share of naysayers over the years, but he's also heard dos Santos talk about dominating this rematch after already holding a win over him from nearly three years ago.
In fact, dos Santos has predicted that he will finish Miocic inside two rounds, which earned a smirk and then a grimace from the reigning and defending heavyweight champion when he heard that news.
In response, Miocic won't be as brash as to call his shot when he'll put dos Santos away, but he promises the judges can take the rest of the night off once the main event starts on Saturday night.
"It's not going the distance. He knows it, I know it and I'm the one that's winning. I'm walking out with the belt still wrapped around my waist," Miocic said.
"You'll find out when I have my hand raised May 13. But I'm winning. I'm walking out with that belt still around my waist. I'll tell you that right now. That's going to happen for damn sure."
Jeff Bottari/Zuffa LLC | Zuffa LLC via Getty Images