Steelers' DeCastro on Bengals: 'We don't like them, they don't like us'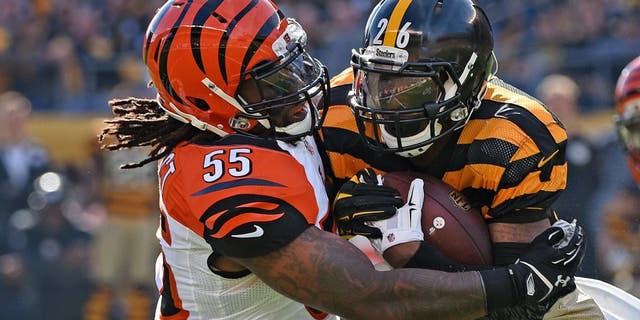 NEWYou can now listen to Fox News articles!
Don't expect any warm and fuzzy feelings when the Cincinnati Bengals and Pittsburgh Steelers meet this Sunday.
Steelers offensive lineman David DeCastro put it bluntly when asked about the rivalry that has seen season-ending injuries to All-Pro running back Le'Veon Bell in its last two games.
"We don't like them. They don't like us," DeCastro said via the Pittsburgh Post-Gazette. "I'm not going to sit here and give you bulletin board material, but that's as simple as it can be."
Bell ended up missing the playoffs last season after absorbing a hit to his knee from Bengals safety Reggie Nelson. Without a viable replacement, the Steelers and their one-dimensional offense were then upset at home by the Ravens in the opening round. Bell's season was ended in Week 8 when he landed awkwardly on a tackle from Bengals linebacker Vontaze Burfict.
Several Steelers players were not happy with the way Burfict reacted after the tackle, but the linebacker claimed he was just fired up for making a play and didn't see that Bell was hurt. DeCastro stopped short of calling the Bengals dirty this week.
"I don't want to say dirty. I don't want to call anyone dirty. You don't want to be dirty. You're not out to hurt people. You don't want to do that in the NFL. I wouldn't say that."
The Bengals can clinch the AFC North win a win this Sunday.