Spurs embarrass Rockets by 39 points without Kawhi Leonard in Game 6 closeout win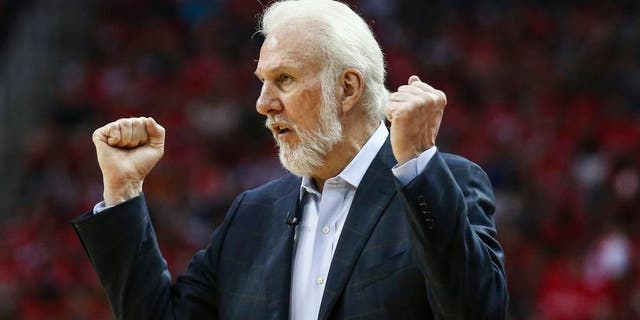 That's right: 39 points.
There was always the chance for a blowout when the San Antonio Spurs decided to sit Kawhi Leonard for Game 6 against the Houston Rockets. We just didn't expect the Spurs to be the team delivering the thrashing.
Thanks to one of the worst nights of James Harden's career and a much-needed big game from LaMarcus Aldridge, though, the Spurs eliminated the Rockets from the 2017 NBA playoffs with a 114-75 beatdown.
Aldridge finished with 34 points on 16-for-26 shooting and 12 rebounds, while Jonathon Simmons added 18 points and four assists for San Antonio. Harden went 2-for-11from the field, scoring 11points and dishing sevenassists in an embarrassing loss that had many questioning his MVP credentials.
The defeat is particularly irksomefor Rockets coach Mike D'Antoni, whois now 5-20 in the postseason against Popovich, having lost all five series between the two.
Leonard missed Game 6 due to an ankle injury he suffered in the second half of San Antonio's overtime Game 5 victory, as the Spurs had the luxury of a potential Game 7 at home on Sunday if they lost on Thursday night.
Instead, San Antonio will tip off the Western Conference finals against the Golden State Warriors, who swept their second-round series against the Utah Jazz, on Sunday in Oakland.
USA TODAY Sports | Jayne Kamin-Oncea