Soccer Round-Up: Tough Week for Chicharito, Mexican International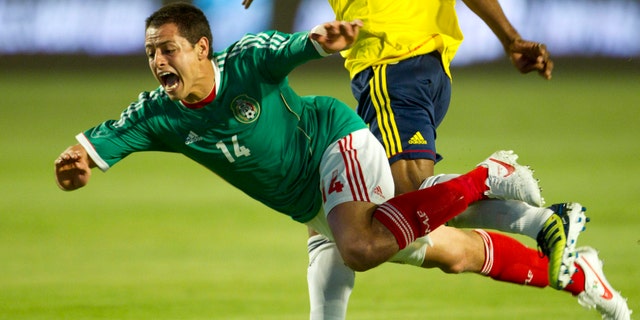 It turned out to be a tough week for the Mexican international -- team-wise and individually.
On Wednesday, El Tri suffered a rare defeat on American soil, dropping a 2-0 loss to Colombia in Miami.
Over the weekend, the misery continued for several members of the team, particularly Javier Hernández, Andres Guardado, Guillermo Ochoa and Carlos Vela.
After firing blanks against the South Americans in the mid-week international friendly, Chicharito watched Manchester United's 3-1 English Premier League victory over Tottenham from the bench at White Hart Lane. Ashley Young struck for a brace in the second half, scoring in the 60th and 69th minutes, after striker Wayne Rooney gave the visitors the lead in the 45th minute.
Likewise for Guardado. Due to his participation in the Colombian encounter, the midfielder was not used by Deportivo Coruña in its 2-1 win over Alcorcón in Spain's Segunda Division.
Ochoa, the goalkeeper in Wednesday's encounter, was forced to take the ball out of the back of the net four times as he and Ajaccio suffered a 4-1 away loss to host Paris Saint-Germain in French Ligue 1. PSG broke a three-game streak in which it registered draws. Argentine striker Javier Pastore lifted the hosts into a 2-0 advantage before Ajaccio defender Yoann Poulard sliced the lead in half just before the interval. However, Guillaume Hoaru tallied in the 86th minute and Brazilian Nene found the back of the net four minutes into stoppage time, his 13th goal this season.
Vela appeared to have scored for Real Sociedad in a 2-0 loss to Athletic Bilboa in Spain's La Liga, but the referee did not award the goal.
Who knows what would have happened had the Mexican international midfielder-forward scored? At the time, Bilboa was leading 1-0 on the first of two goals from Markel Susaeta in the 25th minute. Vela was denied two minutes into the second half in the rain at San Mames stadium. He appeared to have scored during a scramble in front of the net before goalkeeper Gorka Iraizoz could clear the ball. However, the referee did not award a goal. As it turned out, the man in the middle also disallowed a goal by Sociedad's Mikel Aranburu for being offside in the 60th minute.
Italy
Alejandro Gomez, Mariano Izco, Diego Forlan, Diego Milito
Four South Americans, including three Argentines, played vital roles in the 2-2 draw between Inter Milan and Canatia in Serie A. Forlan was the lone Uruguayan from the bunch. Gómez and Izco lifted visiting Catania to a 2-0 halftime lead. Gómez scored through Yuto Nagatomo to lift the visitors to a one-goal margin in the 21st minute before Izco tallied from close range right before the half, although some media reports claimed that he was offside. Inter, which was booed by its own supporters in the opening half, rallied in the final 45 minutes. Forlan snapped Inter's 541-minute scoreless streak in the 71st minute. He broke down the left side before cutting inside before blasting such a hard shot that goalkeeper Juan Pablo Carrizo could not hold. Milito leveled the game in the 80th minute.
Ezequiel Lavezzi, Edinson Cavani
Lavezzi, an Argentine, struck in the 86th minute to break a 1-1 tie to lift Napoli to a 2-1 victory over host Parma. The goal, however, was not without controversy as Parma claimed Lavezzi was offside. Cavani, a Uruguayan striker, had given Napoli a halftime lead, scoring his 16th goal of the season, off a rebound that was saved by goalkeeper Antonio Mirante. Lavezzi and Cavani have combined to score 10 goals in their last five games.
Luis Muriel, Rodrigo Palacio
Both players found the back of the net in Lecce's 2-2 draw with Genoa. Palacio, an Argentine, started the sequence for Genoa's first goal with a back heel pass as Guiseppe Sculli from five yards. Muriel, a Colombian, tallied to cut the lead in half.
Santiago Garcia, Diego Pérez
A pair of Uruguayans found themselves in the middle of the fray in Bologna's 1-0 win over Novara. Garíia fouled Alessandro Diamante in the penalty area. Novara goalkeeper Samir Ujkani, who stopped two penaty kicks in Albania's 2-1 international friendly loss to Georgia on Wednesday, saved Marco Di Vaio's penalty. However, Bologna found the net in the 87th minute as Pérez had a shot knocked off the post by Ujkani. The ball came to Di Vaio, who hit the left post before Robert Acquafresca scored.
Spain
Even without the brilliant Messi -- who was serving a one-match suspension for yellow-card accumulation -- Barcelona still is a difficult side to beat. Seydou Keita and Xavi Hernández scored in the 78th and 88th minutes, respectively, to turn a 1-1 tie into a 3-1 victory over Sporting Gijón. Barca accomplished the win with 10 players after Gerard Pique was red-carded as he got in a tangled with Miguel de Las Cuevas on the edge of the Barcelona penalty area.
Gonzalo Higuaín
Higuaín, an Argentine, struck for a double as Real Madrid rolled to a 5-0 win over Espanyol, which kept the leaders 10 points ahead of Barca. It also was Real's 10th consecutive league triumph. Cristiano Ronaldo added his 30th goal of the season.
"We knew we needed to maintain our lead in the table," Higuaín told Spanish television. "We are happy not only with the victory but with the way we went about earning it."
Germany
Paolo Guerrero
The Peruvian striker certainly did not make life any easier for Hamburg in its 4-0 loss to visiting Bayer Leverkusen as he was red-carded in the 54th minute. It forced the hosts to play the remaining 36 minutes with 10 men.
Portugal
Oscar Cardozo, James Rodríguez
Cardozo, a Paraguayan, struck on both sides of halftime but it wasn't enough for Benfica en route to a 3-2 loss to Porto, which grabbed a three-point lead in the First Division. After Brazil's Hulk had given Porto a sixth-minute lead, Cardozo connected for his 17th and 18th goals of the season in the 41st and 48th minutes for a 2-1 edge. But Porto rallied behind Rodriguez, a Colombian and Brazilian Maicon.
Scotland
Emilio Izaguirre, Efraín Juárez
Defenders Izaguirre (Honduras) and Juárez (Mexico) did not make the Celtic roster for its 1-1 Scottish Premier League draw with Aberdeen. The tie broke Celtic's 20-game winning streak in domestic competitions.
Brazil
German Herrera
The Argentine struck for a brace to boost Botafogo to a 3-1 victory over Volta Redonda.
Carlos Tenorio
The Ecuadoran ruptured his Achilles tendon in Vasco da Gama's 2-0 victory over Olaria.
Michael Lewis, who has covered international soccer for more than three decades, can be reached at SoccerWriter516@aol.com.
Follow us on twitter.com/foxnewslatino
Like us at facebook.com/foxnewslatino