Several Hawks preparing for first Game 7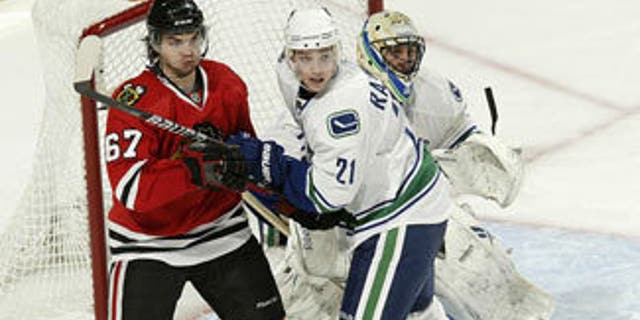 NEWYou can now listen to Fox News articles!
CHICAGO – Some of them have won the Stanley Cup, others have also won an Olympic gold medal and this season's version of the Chicago Blackhawks went through countless "big" games in an oft-turbulent regular season.
Now, here they are facing a Game 7 on the road Tuesday night at Rogers Arena against the Vancouver Canucks in a Western Conference Quarterfinal series they once trailed 3-0.
Only five Blackhawks have experienced a Game 7 in the NHL – and Jassen Cullimore is now skating with the team's black aces – but the way the Hawks see it, it's not a big deal.
"It's good to have some (Game 7) experience there that can help you, but I think a lot of guys here have played in big games, whether it's been for Olympic gold medals or in the Stanley Cup Playoffs or even the Cup Final," star forward Patrick Kane said on Monday afternoon. "I think we've kind of gotten a sense for what to expect. It's exciting. I was saying that last night … that I haven't been in a Game 7 in the NHL yet."
He'll get his chance on Tuesday night against the Canucks, who have 12 players with Game 7 experience – including goalie Roberto Luongo, who beat the Dallas Stars 4-1 in 2007 in a conference quarterfinal.
Still, this Game 7 couldn't come with a much better scenario for the Blackhawks.
After getting into a 3-0 hole to start the series – and needing help on the last day of the regular season just to get into the playoffs – the Hawks are looking at this like it's a "no-lose" proposition. They might be the defending Stanley Cup champions, but after having to turnover nearly half the Cup-winning roster because of the League's hard salary cap, a repeat was hard to fathom.
In essence, the Hawks are playing with house money as the West's eighth-seed while their arch rivals – the Canucks – are the reigning Presidents' Trophy winner and top seed.
"I still feel all the pressure's on them," Kane said. "They're the ones who were up three to nothing. They're the first seed in the West and kind of predicted to win the Cup this year and go really far. We didn't really have any of that pressure on us."
Hawks coach Joel Quenneville – who's 1-2 in three seventh games as a head coach – agreed with Kane, calling what's happened in this series a "snowball" effect for Chicago. Building that snowball were a pair of dominating, blowout wins in Game 4 and Game 5 that breathed new life into what looked like a hapless Hawks team that lost the first three.
The only difference now, after the Hawks outlasted the Canucks in overtime on Sunday, is that Chicago has its first crack at ending Vancouver's season. The Canucks, meanwhile, have failed to close the deal three straight times.
"We've got the excitement that we didn't have going into Games 4, 5 and 6," Quenneville said. "It keeps snowballing here, but it's been a fun process and we can see the element (that) when the playoffs begin, you see how much fun it can be. We're experiencing that now and the guys are having fun with it."
Nobody's having more fun than Hawks center Dave Bolland, who came back off a long absence from a severe concussion and sparked Chicago's wins. Bolland is another one of the Hawks with a lot of experience in big games, but no Game 7 experience.
Illustrating how little that means to him was how his press conference began on Monday. Bolland was asked about the last time he'd ever played in a Game 7 at any level of hockey. He quickly threw out last season's Stanley Cup run as a possibility and was just as quickly corrected.
"No?" said Bolland, hunching his shoulders. "Two years ago? No? Can't we just end it here?"
Alas, not.
The seventh game of this series will take place and only a handful of Hawks will truly know what's in store before the puck is even dropped: forward Marian Hossa (five Game 7s), backup goalie Marty Turco (one), forward Fernando Pisani (one), defenseman Brian Campbell (two) and Cullimore (three).
"It will be a lot of our first Game 7s here, so I think guys are going to be excited and pretty jumpy and ready to go," Bolland said. "Basically (the last three games) felt like it. We were facing elimination. We had nothing to lose. What we did is just went out there and played. We played hard and I think we played great."