Seidenberg proving his worth with Chara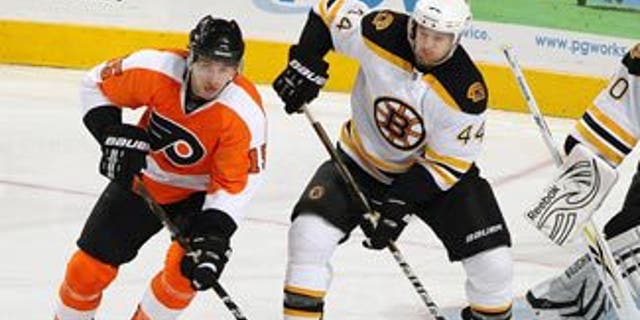 PHILADELPHIA -- There's a perfectly good reason why Boston Bruins coach Claude Julien has veteran defenseman Dennis Seidenberg paired with All-Star giant Zdeno Chara these days.
It starts with reliability.
The twosome has not only combined for 6 points, but also a plus-6 rating, through eight playoff games this spring. In a rather impressive 7-3 dusting of the Philadelphia Flyers in Game 1 of the Eastern Conference Semifinals on Saturday, Chara and Seidenberg were at it again.
Seidenberg, the 6-foot-1, 210-pound German, and Chara, the 6-9, 255-pound Slovakian, joined forces at even strength, on the power-play and even shorthanded. Seidenberg, making his first playoff appearance against the team that drafted him in the sixth round back in 2001, registered two assists and a plus-4 rating while blocking two shots in 25:43 of ice time.
Chara was held off the scoresheet but did finish with a plus-3 rating with two hits in a team-high 28:08 of ice time.
Seidenberg's two-assist effort matched a personal-best -- marking the third time in 27 career playoff games he's produced a multiple-point effort.
"He was really solid again for us," Julien said of Seidenberg. "He was physical and strong. Give him credit for those goals we scored early in the game. He did a good job of pinching, and he did a great job carrying the puck behind the net and making a great play from there on in."
Julien was referring to a key moment late in the first when Seidenberg feathered a pass to Nathan Horton in the slot just before curling around the Flyers net. Horton jammed away at the puck and scored to give the Bruins a 2-1 lead with just 35.7 seconds remaining -- it was the first of four unanswered Boston goals.
"He has been a pretty good player for us all year," Julien said. "There's no doubt that we missed him last year in the playoffs but he's showing his worth right now and we're happy to have him."
During last year's epic seven-game series loss to Philadelphia, Seidenberg was a spectator after suffering a lacerated tendon in his left forearm late in the regular season. It was tough to watch.
"I was more nervous watching, so at least I'm able to play this time around," Seidenberg said. "This year's playoffs have definitely been fun … I've been enjoying it so far."
He's also been enjoying playing alongside Chara.
"He's a big guy who takes up a lot of room," he said. "In our defensive zone, he cycles the puck quick, he gets to loose pucks and, from then on, it's an easy breakout. He's just a pleasure to work with and fun to play with because he makes so many things easier."
Julien feels the two complement each other extremely well.
"Well, they're both very good and reliable, very big and strong," Julien said. "They can both move the puck and shoot it well and have a lot of qualities that obviously we look to see in a defenseman. Putting them together makes each of them that much better. They've been a real good pair for us, especially in that second half of the Montreal series when we ended up putting them together.
"We like the way it has gone."
Seidenberg appeared in 92 games for the Flyers (2002-04 and 2005-06) and finished with 6 goals and 20 points. He was also a member of the Philadelphia Phantoms 2004-05 Calder Cup team. Additionally, Seidenberg spent two-plus seasons with the Carolina Hurricanes and, while there, was coached by current Flyers bench boss Peter Laviolette.
"It really doesn't surprise me that (Laviolette) is having such good success in Philly," Seidenberg said. "I really liked him when I was in Carolina. His style of play is really aggressive and he always seems to get the best out of his players. He just knows how to motivate the team and get them going at the right point."
Laviolette certainly appreciated what Seidenberg brought to the defensive end in Carolina. In 137 games with the Hurricanes, he produced 6 goals and 51 points.
"He's a big, strong two-way defenseman," Laviolette praised. "He can play a lot of minutes. He does everything well. He played power play, killed penalties, blocked shots. He was a good teammate, good team player."
In addition to his offensive capabilities, Seidenberg finished second on the team with 161 hits and was first with 174 blocks in the regular season. In eight postseason games, he's first on the team with 21 blocks and second with 22 hits -- three shy of team leader Patrice Bergeron.
Follow Mike Morreale on Twitter at: @mike_morreale