Sean Payton says Tim Hightower had that 'look in his eye'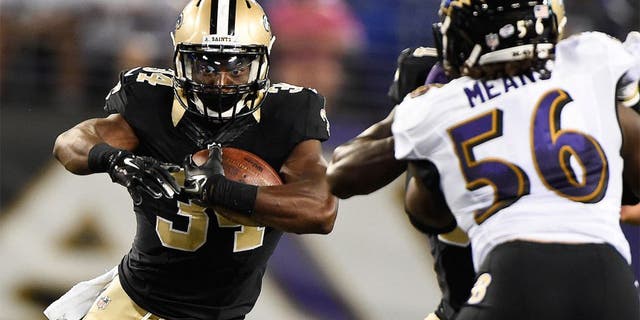 NEWYou can now listen to Fox News articles!
Running back Tim Hightower is hot on the comeback trail. It's taken three years for Hightower to get back to the NFL, but the New Orleans Saints gave him a chance and he got plenty of work in the preseason opener.
As Mike Triplett of ESPN explained, head coach Sean Payton had some positive things to say about the 29-year-old running back.
"I liked the look in his eye pregame, and I liked it during the game. I thought it was really good," Payton told ESPN of Hightower.
As Triplett explained, Hightower rushed 12 times for 31 yards, while catching one pass for 10 yards. Hightower said it felt "awesome" to be back on the field, and sounded off on the comeback.
"A lot of work has gone into getting back and just having the opportunity to do this again, to play the game I love, and to be able to do it in a game situation. It's a true blessing. It meant a lot to be out there," Hightower said. "I just wanted to come in here and put a good first foot forward. I'm sure there'll be a lot of critiquing, a lot of things I can improve on. Mainly I'm just thankful for that first good step."
Hightower's status is unknown still, as the Saints still have Mark Ingram, C.J. Spiller and Khiry Robinson on the depth chart. Is there a chance Hightower could make the final roster? Absolutely, but he'll have to impress moving forward in the preseason.
(h/t ESPN)