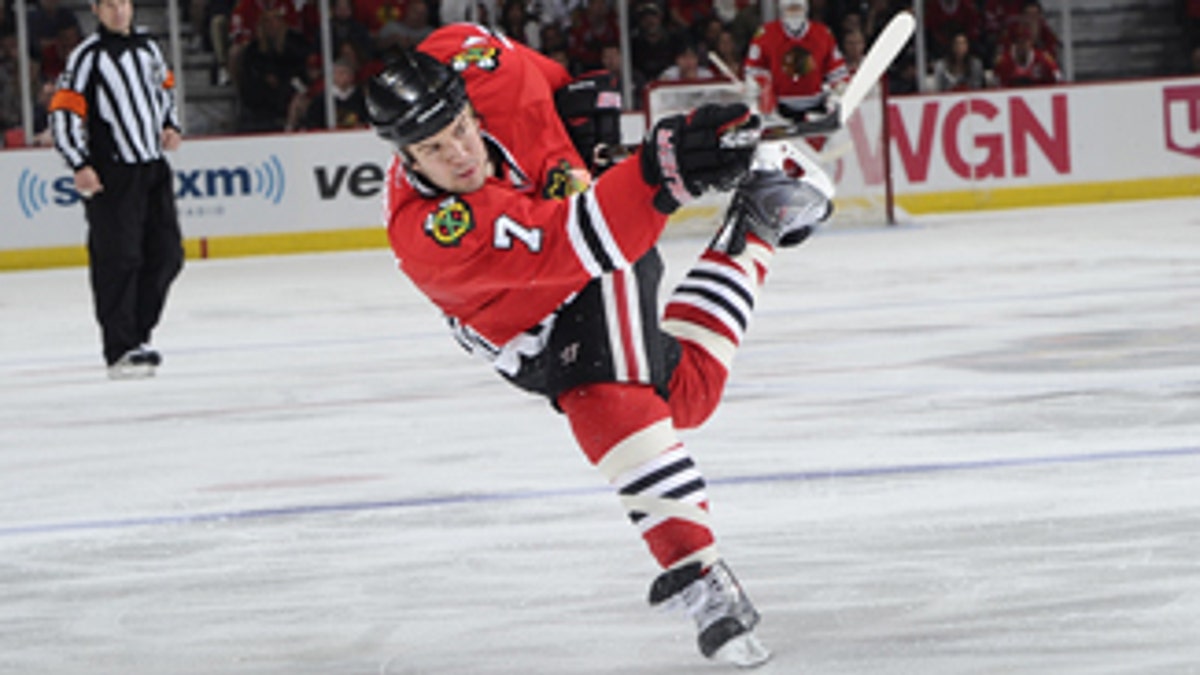 CHICAGO -- Brent Seabrook missed all the fun in the Chicago Blackhawks' 7-2 romp against the Vancouver Canucks in Game 4 of their Western Conference quarterfinal series and might not be ready for Game 5 on Thursday night at Rogers Arena.
That's the bad news for the Hawks, who won their first game in the series but still trail the top-seeded Canucks by two games. The good news is that Seabrook was with the team when they left O'Hare Airport on Wednesday afternoon bound for Vancouver.
"He's coming on the trip and yeah, there is a possibility that he could play," Hawks coach Joel Quenneville said.
Seabrook is recovering from a pair of hits put on him in Game 3 by Canucks forward Raffi Torres -- including a huge hit while Seabrook was looking behind him. Torres flattened the puckless Hawks defenseman with a punishing blow and received a minor penalty for interference.
It has become a bit of a rallying point for the defending Stanley Cup champions, especially after it was decided there would be no suspension for Torres. All through Game 4, the Hawks made sure they got some licks in against Torres and his teammates, as Chicago outhit Vancouver 44-33 and turned the game into a rout partly because of it.
"With Seabrook being out and then you don't even see a suspension to Torres, you're definitely going to gather together behind that ... especially for Seabrook," Hawks forward Patrick Kane said. "Who knows when he's going to be back? Hopefully sooner than later, especially after a hit like that and you don't see the guy get suspended. That's kind of a tough one to swallow. We can't get caught up in that. We've just got to keep playing."
Torres said after Game 4 that he welcomes the Hawks making it a point to target him with hits.
"That's fine," said Torres, who refused to answer questions about the hit on Seabrook. "If they do that, then I'm doing my job."
If Seabrook does not play in Game 5, that means 6-foot-8, 258-pound John Scott will again be patrolling the blue line for the Hawks -- as he did in Game 4 for 8:28 while logging a plus-1 rating, getting a shot on goal and blocking a shot. Canucks defenseman Kevin Bieksa threw a verbal barb at Scott before Game 3 by saying smaller players who Scott challenges to fight should just decline, skate around him and score a goal.
Hawks coach Joel Quenneville said he knew there were some nervous fans in Chicago when it was announced Scott would play in place of Seabrook on Tuesday, but he thought Scott was solid.
"I think a lot of people rolled their eyes yesterday morning when we announced he was likely on the back end," Quenneville said. "At the same time, we played five big games down the stretch and John Scott was on the back end. Played meaningful minutes in those games, but they're important minutes for us because he settled things down and played well defensively. He's got a purpose to his game. He's not just a one-dimensional player. Defensively he puts himself in a good spot."
In other Chicago injury news, forward Tomas Kopecky (upper body) will not play in Game 5 and did not make the trip to Vancouver.