Saints pay tribute to New Orleans on 10th anniversary of Katrina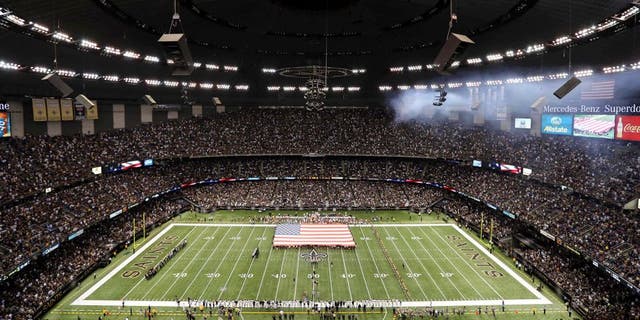 NEWYou can now listen to Fox News articles!
August 29, 2015 dawns as a bright, sunny day outwardly in New Orleans, but for most residents, the ten-year anniversary of Hurricane Katrina evokes a torrent of dark, nightmarish emotions internally.
Many are trying to focus on the positives: all that the city and region have accomplished in the past decade and hope for an even better future. The New Orleans Saints are in the number.
The team posted this video on its Facebook page to pay tribute to the city and its fans, narrated by players, coaches and executives who were in New Orleans in the devastation's wake.
"Thank you New Orleans for giving us the greatest home field advantage in the NFL and giving us something greater to play for than ourselves," tackle Zach Strief says in the video, which quickly gained hundreds of thousands of likes.
"Thank you for reminding the world why New Orleans will always matter," said Drew Brees. "We know there is nothing we can't accomplish together."
Certainly many sports teams and their hometowns enjoy a deep affection, but no team and no city have endured and crafted the storyline of New Orleans and the Saints.
At a time when some still argued that the Crescent City wasn't worth rebuilding, the Saints returned to the Super Dome – the shelter of last resort in the aftermath of the storm – and beat the Atlanta Falcons. That victory was the morale booster the city so desperately needed and a sign to the rest of the world that New Orleans was on her way back.
"I can't believe it has been 10 years. I can't believe it has been 10 years since we went to our first NFC Championship," assistant head coach Joe Vitt said earlier this week. "The bond between the city and that team in that year was incredible. I took the job on February 27th and I came to this town and never saw such devastation. I was thinking about the Superdome and the roof being off. I was more nervous for that than the Super Bowl. We just didn't want to let these fans down. When you look at how far the city has come and with people coming back to this city, it really is unbelievable."
This season, the Saints are trying to recapture the spirit and urgency of both the 2006 season following Katrina and the Super Bowl campaign.
MORE FROM FOX SPORTS SOUTHWEST:
- PHOTOS: Cowboys Cheerleaders Auditions
- Preseason predictions for 2015 MLB season
- Ranking NFL quarterback salaries
- Oldest player on every NBA team
- College football's highest paid coaches in 2014
- Highest paid player on every MLB roster