Rockets can close out Thunder with Game 5 victory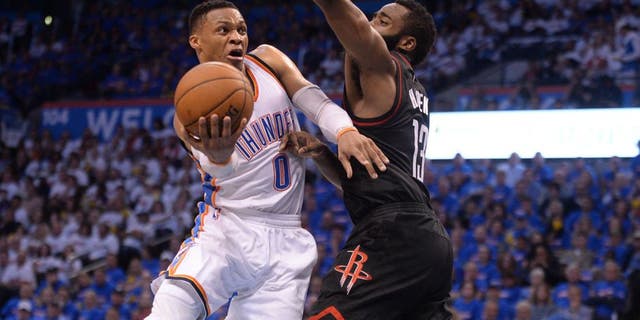 HOUSTON -- Oklahoma City Thunder guard Russell Westbrook on Sunday drew a line in the sand rebuffing the disparagement of teammates, offering a statement of support and solidarity in the aftermath of another come-from-ahead defeat in Game 4.
While the numbers are glaring -- Oklahoma City is plus-3 with Westbrook on the court in its Western Conference first-round postseason series with the Houston Rockets, minus-40 with him on the bench -- there is another point to consider.
The Rockets' three-man bench has been exceptional throughout the series, which resumes with Game 5 on Tuesday night at Toyota Center and the Thunder on the brink of elimination.
On Sunday in Oklahoma City, it was reserve center Nene who carried the load, posting 28 points and 10 rebounds in a 113-109 win. But all season long, the Rockets have come to rely on Nene and guard Eric Gordon, with guard Lou Williams joining the fray at the midseason trade deadline.
"They've been having that confidence all year long. I've been having that confidence in them," Houston All-Star guard James Harden said. "That's how we've been playing all along."
Williams (72 points), Gordon (60) and Nene (54) are second, third and fourth in scoring for the Rockets this series. Their production has been integral in keeping the Rockets rolling through lulls and has set the stage for fourth-quarter rallies. Houston has outscored the Thunder 128-89 in the final period this series.
Westbrook is averaging a triple-double this series (35 points, 12 rebounds, 11.3 assists) but is shooting just 31.6 percent from the floor in the fourth quarter. The Rockets' ability to throw multiple looks in his direction has paid off in crunch time.
"The game changes. You've got to be able to withstand runs, especially against a team like that because they shoot a lot of threes and create situations where they make runs," Westbrook said. "You've got to be able to withstand them for 48 minutes."
If the Thunder are looking to correct late-game collapses, the Rockets are seeking solutions to their sluggish starts. Houston erased deficits of 15 and 14 points to win Games 2 and 4, and is aiming to avoid those early holes altogether.
The Rockets anticipate a jolt of energy from their crowd in what will be the first close-out game of the series. They also recognize it will take far more than that.
"Obviously, we've played well here the first two games," Houston forward Ryan Anderson said. "We just want to continue to play hard, keep our same game plan but getting a good start for us is really important."
One potential hope for a breakthrough for Houston: The Rockets have yet to catch fire from behind the arc. After averaging 15 3-pointers on 37.5 percent shooting against the Thunder during the regular season, the Rockets are shooting just 31.8 percent (42 for 132) on 3s despite scoring 114.8 points per game.
Oklahoma City continues to hang its hat on defense. That could be false hope.
"Every game we've played we've done things that we need to do better and better. I still think there are areas we can get better at and improve," Thunder coach Billy Donovan said. "Overall for the most part, the things that we wanted to do against Houston defensively, we've tried to do pretty well."