Ricky Stenhouse Jr.s back-to-back top-10 finishes are sign of Roush's revival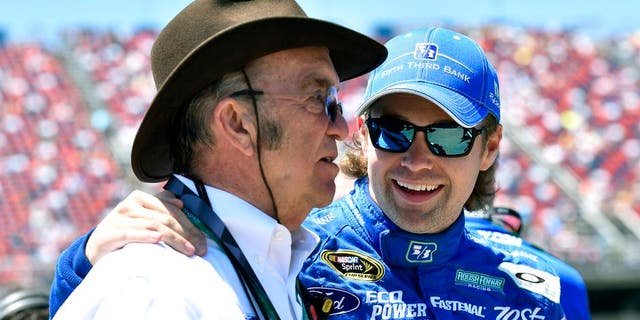 One of the biggest questions coming into the season revolved around how Roush Fenway Racing would do after downsizing from a three-car operation to two cars.
With veteran Greg Biffle out of the picture, the pressure fell squarely on the shoulders of Ricky Stenhouse Jr. and Trevor Bayne.
The year didnt start off how Stenhouse hoped with a 31st-place finish at Daytona and 33rd-place two weeks later at Las Vegas.
Then something clicked.
Stenhouse has posted two top-fives and has finished 14th or better in five of the last six races.
On Sunday at Richmond, Stenhouse overcame early contact with the wall to battle back for his second fourth-place finish of the season.
I made it a lot of work for us there getting in the fence later in that first stage and really we were fighting back all day from there, Stenhouse said of his performance at Richmond. Had a really good car on the long run, but we bent the splitter bar down. Was on the splitter for five or six laps, so restarts I was just trying to keep as best track position as I could, and once we got to lap 6 or 7, my car kind of came back around to me.
It was a nobrainer there to stay out that last caution. I was glad it came out because I thought we missed the opportunity the run before to stay out. It worked out perfect.
Stenhouse has climbed up the standings in recent weeks and currently sits in the final playoff spot. Hes off to his career-best start to a season with an average finish of 15.6, almost four spots better than his pace through nine races last season.
Add in that his teammate Trevor Bayne has finished 13th or better in seven of nine races and sits 14th in the points standings and you can see Roush Fenway Racing's revival.
For the second time in his career, Stenhouse posted back-to-back top-10 finishes, the first came in his rookie season in 2013 when he finished 10th at Richmond and eighth at Chicagoland.
While the accomplishment isnt a big one, its another indicator that Roush Fenway Racing has improved across the board and has its drivers in position to compete for the playoffs.
I think weve been a top15 car on the (1.5-mile tracks), Stenhouse said post-race at Richmond. I think you could say weve been a 10thplace car on the short tracks and gambled some and had some good finishes. I think today we were a top5 car before I wrecked it. Long runs were definitely top 5.
Along with cars that can compete for solid finishes on most tracks, Stenhouse has grown as a driver and has learned how to make adjustments throughout a race to increase his chances of a strong finish.
The less downforce we have, the more you can kind of play with the brakes, play with the gas and throttle and really kind of maneuver your car around a little bit more instead of it being stuck to the racetrack, Stenhouse said. You know, Ive been finding a lot of success in that even if the car is not perfect, being able to change my adjustments and what Im doing in the car to get the best out of it. Its getting that way on mile-and-a-half tracks, for sure. Even the newer paved ones, but the old ones definitely it's coming into factor, too. Weve just got to keep building better cars and bringing faster cars to the racetrack and putting the whole weekend together, not making mistakes.
Rusty Jarrett | Rusty Jarrett LAT Images www.latphoto.co.uk