Report: Giants tackle Ereck Flowers shoved a reporter in locker room after loss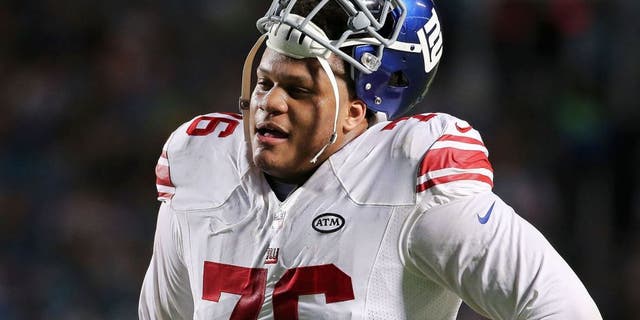 After a 23-16 New York Giants loss to the Green Bay Packers at Lambeau Field on Sunday night, an ugly exchange reportedly occurred in the locker room between Giants left tackle Ereck Flowers and ESPN's Giants beat writer Jordan Ranaan.
According to NJ Advance Media's Dan Duggan, the incident happened when Flowers was speaking with a pair of reporters at his stall in the visitors locker room when the 6-foot-6, 329-pound left tackle noticed Ranaan approaching:
Flowers: "Hey, get out my face man. Don't come over here."
When Raanan didn't move, Flowers moved his face close to the reporter's and asked, "You hear me?"
Raanan: "I'm just trying to do my job."
Flowers: "Go over there."
Raanan: "I'm just trying to do my job."
Flowers: "Get the [expletive] out of my face, bro.
Raanan: "I'm just trying to do my job."
Flowers then said, "Go over there, man," as he shoved Raanan.
Duggan added that the shove sent Ranaan back a few steps. Ranaan, who covered the Giants for NJ Advance Media for three years prior to joining ESPN in the summer, appears to reference the incident on Twitter:
Flowers, the Giants' first-round draft pick out of Miami in 2015, has shown improvement in his second season but had a rough game against the Packers, surrendering one sack, seven total pressures on Eli Manning and getting flagged for a holding penalty.