Report: Brian Hoyer will continue to start over Jay Cutler if he plays well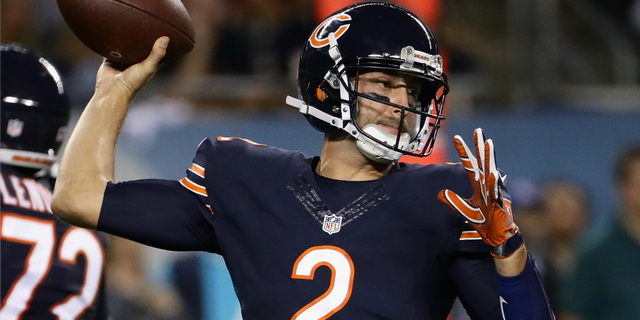 For the past eight years, Jay Cutler has been the Chicago Bears' primary quarterback. Injuries have forced him to miss 17 games in that span, but they've never cost him his starting job.
That could change on Sunday, and in the weeks ahead.
According to NFL Network's Ian Rapoport, Cutler could be on the bench for the remainder of the season if Brian Hoyer continues to play well. In other words, it's Hoyer's job to win. The Bears take on the Colts Sunday, which could be Hoyer's first step towards retaining the job when Cutler returns from a thumb injury.
In his past two games, Hoyer has thrown for 619 yards, four touchdowns and zero interceptions. This season, he's committed just one turnover and is completing 69.1 percent of his passes. Cutler, on the other hand, threw two interceptions and just one touchdown pass in his first two starts, completing 60.9 percent of his passes.
There's no question the Bears offense has been better with Hoyer under center, and there's little reason for Chicago to go back to Cutler upon his return. Head coach John Fox even hinted at the possibility of Hoyer keeping his job if he continues to perform.
"Anybody's that performing well, I don't think we're going to be likely to change," Fox said on Monday.
This is an interesting situation to watch as Cutler's days in Chicago could very well be numbered. If the Bears were to cut ties with Cutler next season, they'd only be forced to eat $2 million in dead money.