Ready or not, Talladega is upon us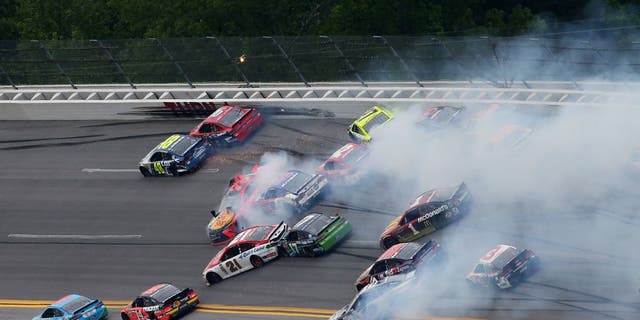 There is no track in motorsports as polarizing or as energizing as Talladega Superspeedway, the next stop on the Monster Energy NASCAR Cup Series circuit.
Talladega is where Bill Elliott set NASCARs all-time qualifying record at 212.809 miles per hour in the 1987 Winston 500.
And in that race, Bobby Allison cut a rear tire, sending his Buick flying into the catchfence in a horrifying incident that miraculously didnt result in any spectator or driver deaths.
Friday night at 9 p.m. ET, FS1 will air a 30-minute special on the 87 Winston 500, a race that began with Dale Earnhardt coming in on a four-race winning streak and ended with a first-time Cup winner.
But that was just one of dozens of memorable incidents at Talladega.
This is the track where in 1986 some fool stole the pace car and for his efforts got dragged out of the car and had the crap kicked out of him.
In 2009, Brad Keselowski won his first race here, with a last-lap crash that sent Carl Edwards first onto the top of Ryan Newmans car and then airborne into the catchfence. Edwards, in a fit of bravado or perhaps delusion, got out of his car and ran to the start-finish line like Ricky Bobby.
David Poole, the highly influential motorsports writer for the Charlotte Observer, was so incensed that he wrote a column demanding that Talladega be bulldozed into the ground because it was too dangerous. Two days after the race, Poole dropped dead from a massive heart attack.
Talladega is a place where guys like Richard Brickhouse, Lennie Pond, Bobby Hillin Jr. and Ron Bouchard scored upset victories. Its where Front Row Motorsports ran 1-2 with David Ragan and David Gilliland in 2013.
And its where the late Dale Earnhardt won his final race of his career in the fall of 2000, coming from barely inside the top 20 to win in the final four laps. The subsequent cheering from the crowd was deafening. To this day, Ive never been to a NASCAR race where I was worried the grandstands would collapse from the thunderous noise the fans generated.
Talladega is where NASCAR Hall of Fame member Mark Martin won an 188-lap race that went caution-free and a place where 20-car accidents happen with regularity.
There are some who believe that Talladega is haunted because it was built next to sacred American Indian burial grounds. And if youve ever walked along Talladega Boulevard at midnight on a Friday night, the odds are good that you saw things that would make Caligula blush.
Yep, everything youve ever heard about Talladega is true. Good and bad.
Its fast, its dangerous, it has drivers and fans alike nervous for all 500 miles.
A lot of drivers hate it because they have so little control of their own destiny here.
And when stuff gets real on the racetrack, all hell breaks loose.
Love it or hate, theres no place like Talladega in NASCAR. And that makes it must-see TV whenever NASCAR races there.
So what can you expect in Sundays GEICO 500?
Anything.
Everything.
Chaos.
Pandemonium.
And 500 miles of edge-of-your-seat action filled with drama, plot twists, and quite possibly another upset winner. All of which ought to make for great fun or a cluster of epic proportions.
Thats the thing about Talladega: You just dont ever know what comes next.