Rangers try to stay hot against Phillies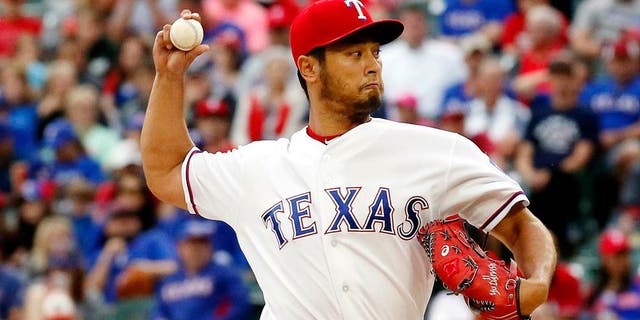 ARLINGTON, Texas -- The Texas Rangers are playing inspired baseball going into the opener of an interleague series with the Philadelphia Phillies on Tuesday night at Globe Life Park.
Texas (19-20) has won a season-high six in a row -- the longest active streak in the majors -- to climb out of the cellar and into second place in the American League West.
However, the club also received some sobering news Monday after learning Carlos Gomez would be lost four to six weeks with a right hamstring strain. The center fielder underwent an MRI exam, and further examination by Dr. Keith Meister confirmed the injury.
Gomez will be placed on the 10-day disabled list Tuesday. Jared Hoying is likely to be called up from Triple-A Round Rock, according to MLB.com. Jurickson Profar is another candidate, although he mainly has been playing shortstop since being optioned to Round Rock last month.
The Gomez diagnosis wasn't a surprise considering he left Texas' win over the Oakland A's on Sunday after pulling up lame when scoring in the seventh inning. He is batting .246 with a team-high 11 doubles, four home runs and 13 RBIs in 38 games.
Despite the blow, the Rangers have momentum and late-game magic on their side. Texas' past five wins -- all on the current homestand -- are of the comeback variety, with the last four coming in the late innings.
"Obviously how they're feeling speaks for itself," Rangers manager Jeff Banister said of his players. "Anytime you put wins together, there's a lot of momentum. There's a lot of feel-good.
"It's nice to come to the ballpark, the comeback wins, there's something that felt like that it would come with this ballclub as we started to get our offense in shape, as the bullpen was able to settle down, pitch much better and eliminate the walks, pitch to their strengths."
Yu Darvish (3-2, 2.96 ERA) gets the first crack at getting Texas to .500 for the first time this season in his ninth start. The staff ace owns a 2.26 ERA over 13 career interleague starts, which is the fourth-lowest ERA among active pitchers with at least 75 innings.
Texas is 5-3 in his eight starts and has won four straight. After last season where he came back from Tommy John surgery, Darvish is enjoying the ride so far.
"Last year, I couldn't afford to have fun," he said through an interpreter. "I was so focused on my body. This year, physically I feel pretty good so I think that's why I can actually have fun right now, because my body feels good."
Darvish has never faced the Phillies.
The Phillies (14-21) have unraveled lately, losing 12 of their last 15 to fall nine games back of the Washington Nationals in the NL East.
Jerad Eickhoff is headed to the mound for Philadelphia. The righty is 0-3 with a 4.76 ERA the year and has never faced the Rangers.
Phillies first baseman Tommy Joseph is on an upswing, slamming his fourth homer of the month Sunday in the first game of a doubleheader with Washington.
"I feel more comfortable than I did," Joseph said. "I'm putting myself in better positions, better counts. I've been doing a better job of elevating the ball."