Raiders QB Derek Carr 'would rather not hear anything' about MVP talk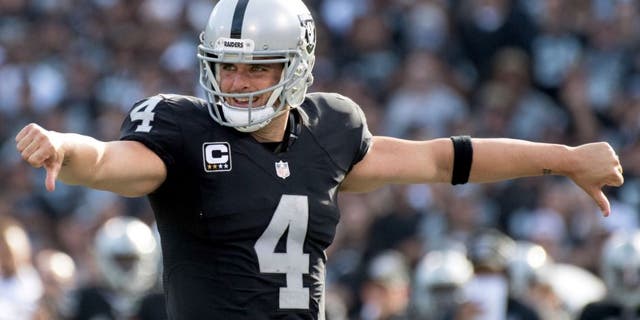 At the midway point of the regular season, just about every award is up for grabs. MVP is one that hasn't had a player establish himself as the clear-cut front-runner, but there are several names worthy of consideration.
Oakland Raiders quarterback Derek Carr is certainly among the top candidates, but he couldn't care less about that matter.
"Halfway through the year, it means nothing," Carr said, via ESPN. "But it's cool to be, as a little kid thinking about those kinds of things, that's cool. But that's probably where it ends for me."
Carr has been outstanding this season -- his third in the NFL. He's thrown for 2,321 yards, 17 touchdowns and just three interceptions. His passer rating is 100.9 as he's improved in every department since last year.
Next to Carr, Matt Ryan and Tom Brady are the other top candidates to win NFL MVP. Brady has a slight disadvantage, considering he's only eligible to play 12 games, but Ryan has been the best quarterback by a wide margin this season. That's not to say he's a lock for the award, of course.
Carr still has a good shot as long as he continues to play the way he has, but he'd rather not talk about it.
"I would rather not hear anything," Carr said. "I'd just go about my business and hang out with my family, to be honest. But it's part of this business, part of this job so, trust me I'm very honored and thankful. Don't get me wrong, but at this point in the year, that stuff, it's cool, but not for me."
Carr is on pace for 4,600 yards, 34 touchdowns and just six interceptions. Those would all be career-bests, as would his projected 18 sacks. He's a soft-spoken leader, but his numbers speak loudly. He just prefers to let his play do the talking.