QB Mitch ready to lead the Gamecocks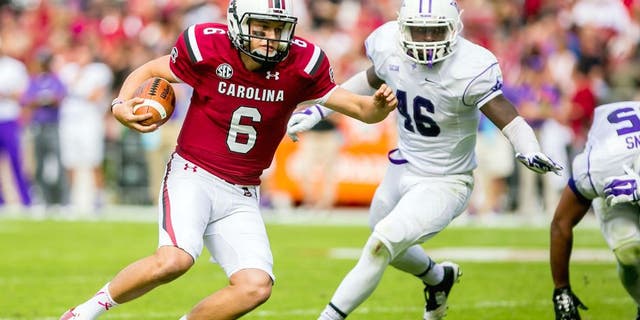 Redshirt sophomore signal-caller Connor Mitch has been given a golden opportunity.
Steve Spurrier entrusted him with the proverbial keys to the South Carolina car for Thursday's season opener versus North Carolina at 6:00 p.m. ET. Mitch will be making his first career start for the Gamecocks in what should be a very competitive game.
From a competition standpoint, Mitch beat out three other quarterbacks (Perry Orth, Lorenzo Nunez, Michael Scarnecchia) for the starting gig.
The Raleigh native will get the good fortune of throwing to receiver Pharoh Cooper, one of the most dynamic pass-catchers in the conference. Tight end Jerell Adams figures to be a prominent target, along with a deep backfield led by David Williams and Brandon Wilds.
With Mitch's relative lack of experience, there was a thought Spurrier could opt to utilize multiple quarterbacks. However, South Carolina's head coach disagreed with that assertion.
"We don't have any plans on [using two quarterbacks]," said Spurrier at Wednesday's SEC teleconference. "Connor Mitch is our starter, we're trying to give him all the confidence and support we can. We believe he can go the distance not only in [the North Carolina game], but throughout the course of the season."
For a younger player, Mitch exudes a ton of confidence.
"I'm not nervous, [I'm excited], I think all of us are ready to get out there and go against someone other than our defense," said Mitch. "We've been going against them since spring ball. It'll be nice to hit someone else."
Aside from Cooper, the Gamecocks will be featuring young talent at the position in the form of Deebo Samuel and Terry Googer. It's imperative for Mitch and his pass-catchers to be on the same page. If the potential route tree isn't ran correctly, turnovers could be an inevitable possiblity. Regardless, Mitch isn't worried.
"You can see each and every day we just gelled together better, [got] more reps together, practicing, seeing everything clicking better."