Prized hoops recruit explains why he picked Texas over Kentucky, other blue bloods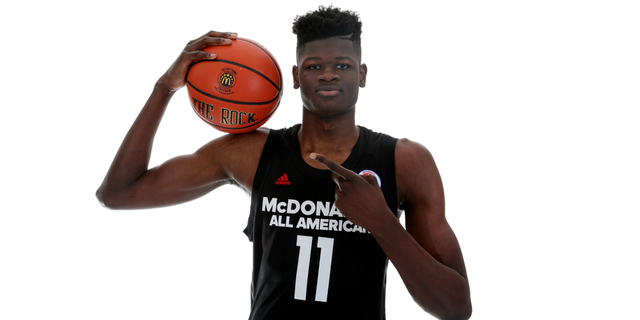 The 2017-2018college basketball season is still a ways away, but the landscape has been drastically altered by the commitments of some of the nation's top high school players over the past week.
On Monday, Trevon Dural, the nation's top point guard, committed to Duke.But the more shocking announcement was saved forThursday, when 6-foot-11, 215-pound center Mohamed Bamba (ranked as high as the No. 2 player in the country by some scouting services) announced his commitment to the University of Texas.
Bamba selected the Longhorns over Kentucky, Duke and Michigan, though many believedit was a two-team race between Texas and John Calipari's Wildcats.The 19-year-old from Harlemcredits his relationship with coach Shaka Smart which began last summer as part of Team USA's Under-18 team as the reason why hewill head to Austin over the established blue-blood.
Here's Bamba's explanation, via the Player's Tribune.
"Coach Smart may not have been aware of it, but I put him through a weeklong job interview last summer when he coached me on Team USA in Valdivia, Chile. We instantly formed a bond. Now, the tables have turned, and Im the one interviewing with him, hoping to show I can play a major role in his teams success next season.
His attention to detail is truly unbelievable I cant tell you how many times he picked up on something I mentioned in passing and brought it back full circle several months later. Ive seen firsthand how much he genuinely cares about me and my family and how hes going to challenge me to be in a state of continuous improvement."
Following the announcement, the most famous Texas hoops alum of them all weighed in.
For those unfamiliar with his game, Bamba is a low-post, shot-blocking extraordinaire, whoalready has an NBA-sized wingspan.He is projected as a top-five pick in the 2018 NBA Draft.
But first Bambawill headto Texas, where heis the biggest piece ona loaded 2017 recruiting class ( ranked No. 3 by Scout.com). But those freshmen will be asked to do a lot of heavy lifting next year:The Longhorns' top twoscorers have left the program (Tevin Mack transferred, Jarrett Allen declared for the draft), while third-leading scorer Andrew Jones is still weighing his draft options. If he returns, Texas could be a fringe Top 25 team entering the year.
But thanks to the surprise commitment of Bamba, the Longhorns will still be really good either way.