Preview: Rays welcome reigning MVP Mike Trout, Angels for 4 games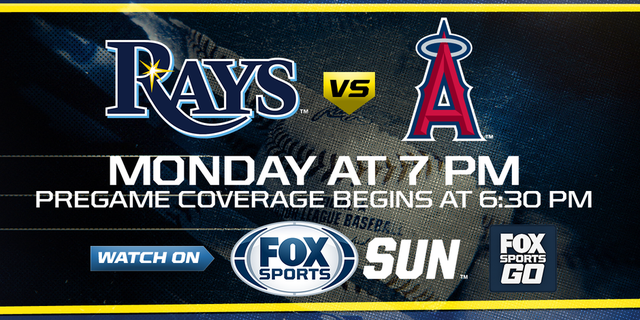 TV: FOX Sports Sun
TIME: Pregame coverage begins at 6:30 p.m.
ST. PETERSBURG, Fla. -- The Tampa Bay Rays, winners of their last three series, will welcome the Los Angeles Angels to Tropicana Field for a four-game series starting Monday.
The Angels (23-23) are in the second stage of a 10-game road trip after losing two of three in a weekend series against the New York Mets. They were able to salvage the series finale by hitting four home runs in a 12-5 win at Citi Field on Sunday.
The Rays (23-23) have climbed back to .500 and are in the thick of the American League East race after winning six of their past nine games. They have found recent success as a power-hitting team, crushing 13 home runs in the past six games and getting offense throughout the lineup.
Tampa Bay beat the New York Yankees on Friday and Saturday before falling 3-2 on Sunday.
"When you win two games, you want to win the third," Tampa Bay manager Kevin Cash said. "I'm the last person that needs to say that, they know that. But we're playing good baseball right now, there's no doubt about it."
Right hander Jake Odorizzi will try to continue a recent run of quality starts from Rays pitchers. In his latest outing, he earned a win against the Cleveland Indians on Tuesday, throwing six innings of four-run ball.
Odorizzi (3-2, 3.16 ERA) has struggled in his four career starts against the Angels, going 0-3 with a 6.98 ERA.
Perennial MVP candidate Mike Trout is 4-for-6 against Odorizzi, and he is not alone. Ben Revere (4-for-6) and Andrelton Simmons (4-for-7, five RBIs) also have given the right-hander difficulty.
Trout is batting .362 (17-for-47) with four home runs and 10 RBIs at Tropicana Field
"He's the best player in the game. Period," Odorizzi told MLB.com about Trout. "They're a good lineup. Every team is a good lineup here, so we'll find out what they all entail (Monday) when (pitching coach Jim) Hickey talks to us. But before that, I've faced them before, and they're a lot of the same guys. I've just got to go and pitch my game and not make mistakes, and I just need to be efficient with my pitches."
The Angels will send right hander JC Ramirez (3-3, 3.97) to the mound. Ramirez is just 1-3 in his past seven starts, but he has been able to go deep into games and has gotten through seven innings in his past two starts. Ramirez didn't factor into the decision in his last start, but he gave up just two runs in seven innings against the Chicago White Sox on Tuesday.
"I used my fastball a lot more," Ramirez said after the game. "I'm pitching for contact now. It's nice to have strikeouts, but it's better when you go deep in the games. I threw seven innings with 85 pitches, and that's really good for me."
Ramirez has made two career appearances against the Rays, both in relief, without giving up a run.
Angels designated hitter Albert Pujols missed all three games against the Mets with a sore hamstring, and his status for Monday was uncertain.
The teams are set to meet for the first time this season. Tampa Bay won the 2016 season series 4-3.