Preview: Marlins, Urena look to quiet hot-hitting A's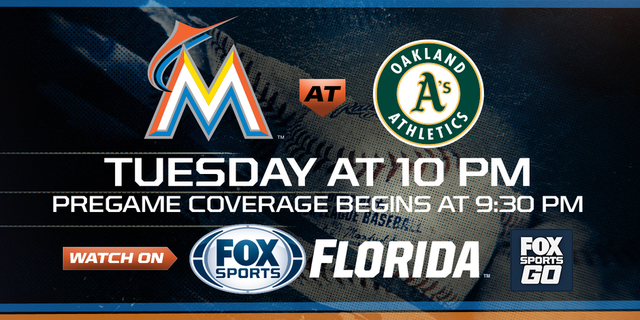 TV: FOX Sports Florida
TIME: Pregame coverage begins at 9:30 p.m.
CAN'T GET TO A TV? WATCH IT LIVE ON FOX SPORTS GO
OAKLAND, Calif. -- The Oakland Athletics powered their way to a 3-1 series win over the Boston Red Sox last weekend at Oakland Coliseum, hitting eight home runs to give them 64 for the season.
Now the A's will try to continue their power surge when they open a two-game interleague series against the Miami Marlins on Tuesday night at home.
The A's are on pace to hit 236 home runs -- 67 more than they did last season. They've gone deep in 14 of their past 15 games and led the American League in home runs entering their off day Monday.
Khris Davis leads the A's in home runs with 13, and Yonder Alonso, who is expected to return to the starting lineup after missing four games with a strained left knee, has a career-high 12.
But five other A's have at least five home runs: Ryon Healy (seven), Jed Lowrie (six), Trevor Plouffe (six), Chad Pinder (five) and Matt Joyce (five). Mark Canha and Adam Rosales each have three.
"It means we have some depth as far as that goes," A's manager Bob Melvin said. "We're not just relying on Yonder (Alonso) and Khris (Davis). It's everybody that's got some power throughout the lineup as far as a team, knowing that you have the ability to score quickly.
"Now, you're not always going to hit homers and you have to do other things well, but that's a nice little dynamic to have knowing one swing can put a couple runs up on the board."
The A's are 19-16 when going deep this season and 1-8 when they go without a home run.
"That's always huge to be a pitcher and go out there with some run support," said A's right-hander Jesse Hahn, who will make his eighth start of the season Tuesday. "Home runs are big plays. They just bring a type of energy, not only on the field but in the dugout. That's positive energy.
"That's always the energy we're looking to go out there with, that's the energy you need to win. Guys keep doing that, then it's looking really good for this team going forward."
Going deep against Marlins right-hander Jose Urena could be a challenge for the A's. In three starts since moving from the bullpen to the rotation, Urena has allowed one home run in 17 2/3 innings. As a starter, Urena is 1-2 with a 1.53 ERA.
Urena has lost back-to-back starts to Atlanta and Houston, but he allowed just two runs in six innings of an 8-4 loss to the Braves and three runs in 5 2/3 innings of a 3-0 loss to the Astros on Wednesday.
"He's got stuff, and he really pitches fearlessly," Miami manager Don Mattingly said after Urena's last outing. "He's fun to watch because he's on the attack. There is absolutely no fear in this guy.
"You could tell by the way he pitches, he's coming after you and he don't really care who you are."
Urena has a mid-90s fastball and has begun mixing in more sliders and changeups to keep hitters off-balance.
"The confidence is there," Urena said after his loss to Houston.
Hahn is 1-3 with a 3.02 ERA in nine appearances, including eight starts. He went 1-1 with an 1.80 ERA in his first three starts but 0-2 with a 4.15 ERA in his past four. Hahn has allowed only one home run in 47 2/3 innings.
"I feel great," Hahn said. "I like what I'm doing right now. Mentally, physically, I feel great. The wins will come."
This will be Hahn's first career appearance against Miami and Urena's first career outing against Oakland.
The A's (20-24) have been a markedly better team at home than on the road. They've won five straight series at home. Overall, the A's are 14-9 at home with four walk-off wins and 6-15 on the road.
"It's a different type of energy we have when we're home," Hahn said. "Especially we've shown late in games this year, we don't give in, we fight till the end, and those wins carry over to the next game."
Miami (15-28) has lost its past four road series but actually has a better record on the road than at home. The Marlins are 6-14 at home and 9-14 on the road.
Miami, which had an off day Monday, dropped three of four games to the Los Angeles Dodgers at Dodger Stadium in a series that ended Sunday with a 6-3 loss. The Marlins are 5-20 in their past 25 games.
The last time the A's and Marlins met, Oakland swept a three-game series on June 27-29, 2014, at Marlins Park. Miami won two of three in its last trip to the Coliseum on June 28-30, 2011.