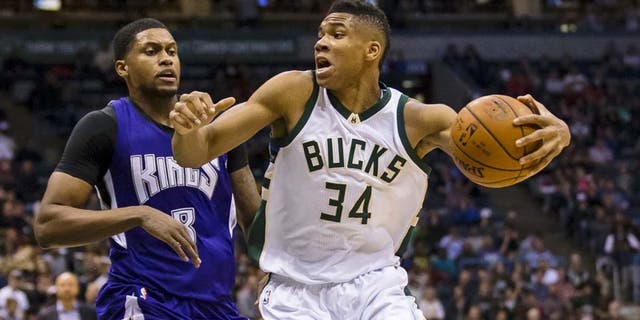 MILWAUKEE -- When the Sacramento Kings visit Milwaukee on Saturday night to take on the Bucks, the mission will be simple: find a way to stop forward Giannis Antetokounmpo.
Milwaukee's fourth-year phenom from Greece appears set to take his development to another level this season and comes into the game as the only player in the league averaging 24.0 points, 8.0 rebounds, 6.0 assists and 2.0 blocks per game.
"He's so versatile," Bucks guard Matthew Dellavedova said. "He's dangerous in so many ways. There are a lot of different ways to use him."
And while early on, Antetokounmpo appeared to carry most of the offensive burden for Milwaukee, he's starting to get some help, especially from forward Jabari Parker, who set a season high his last time out, scoring 27 points -- including a career-best four 3-pointers -- in a 125-107 victory over the Pacers.
"You could see right off the bat they were ready," head coach Jason Kidd said. "They took good shots. They shared the ball. If they had an open shot, they took it. If not, they got off of it. They made good, quick decisions. When you do that, you're going to score a lot of points."
Much of the Bucks' offense is predicated on Kidd's swarming defensive style, which has been a work in progress this season. But Milwaukee took a step forward against Indiana, scoring 38 points off 21 turnovers, fueling an offense that shot a season-high 58 percent from the field and 44 percent from beyond the arc.
"When we get stops, that's when we're most dangerous," Dellavedova said. "If we continue to improve on the defensive end, we can be pretty good."
Antetokounmpo and Parker will look to give Milwaukee its first three-game winning streak of the season while the Kings will try to avoid losing their fourth straight as their five-game road trip continues.
Following the Kings' loss Thursday night in Orlando, head coach Dave Joerger used a Friday practice session to expand the team's offensive setlist in the hopes of adding some punch to a team averaging 99.7 points per game on 45.2 percent shooting.
"I put in stuff (Thursday) morning at shootaround," Joerger said. "But I don't count on it sticking until you can get through a couple of practices learning something and maybe you trot it out during one of your timeout plays."
DeMarcus Cousins is coming off a 33-point effort against Orlando and leads Sacramento with 27.5 points per game this season. Rudy Gay is close behind, scoring 22.5 points per night and is shooting 46.7 percent on 3-point attempts.
Defense has been a problem, too, this season for Sacramento, which has given up 100 points or more in each of its last five contests and has allowed opponents to shoot 45.7 percent from the floor.
"We have to be a better team than that," Gay said . "We have to complete a game. We have two wins, but I don't feel like we've played a complete game."
Sacramento swept the two-game season series with Milwaukee last year, averaging 120 points in those contests despite not having Cousins available either time.