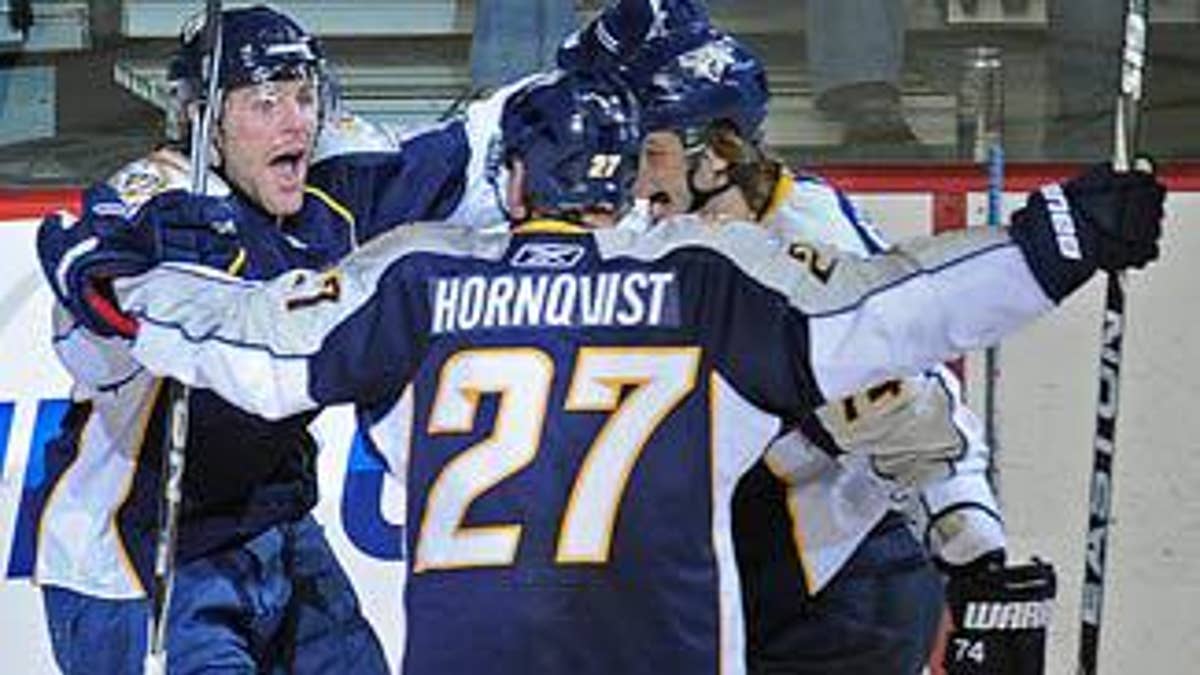 NASHVILLE, Tenn. – The members of the Nashville Predators' top line might not exactly be household names, but, as a group, they include the team's leading goal-scorer in each of the last two years – Patric Hornqvist in 2009-10 and Sergei Kostitsyn this season – and a former finalist for the Selke Award in Mike Fisher.
The three have been instrumental in helping Nashville grab a 2-1 lead over Anaheim in their Western Conference quarterfinal series – they've combined for 10 points and each player is plus-2.
In many ways, then, they have more than held their own with the Ducks' much more heralded top trio of Bobby Ryan (plus-2), Ryan Getzlaf (minus-1) and Corey Perry (minus-2), who have combined for 11 points thus far. Ryan was suspended for Game 3 and also will be for Game 4 for a kicking incident.
Kostitsyn is the least-known quantity and the one who made the biggest leap this season. Hornqvist was a 30-goal scorer and a Swedish Olympian last season and Fisher is well-known from his days with the Ottawa Senators.
However, Kostitsyn, a sixth-round pick by Montreal in 2005, had never scored more than 9 goals or played more than 56 games in his three NHL seasons. He got off to a slow start with the Predators, but ended up with team highs in goals (23) and points (50) while finishing plus-10 in 77 games.
Predators general manager David Poile said he felt he was taking a small risk in trading former goalie Dan Ellis, whom Nashville was not going to re-sign, and Dustin Boyd, who had one goal in 10 regular season games and was minus-6, to the Canadiens for Kostitsyn last June.
"We were hoping we'd get a player who hadn't reached his potential, for sure," Poile said. "We were probably making our evaluation more on that type of prospect as a younger player. (Assistant General Manager) Paul Fenton saw him at 15 years of age and watched him in London (of the Ontario Hockey League). We hoped there would be, obviously, a maturing, if you will, both on and off the ice."
Poile said he was pleasantly surprised when Kostitsyn elected to play for Nashville instead of Russia's KHL, where the Belarusian would have stood to have earned, in Poile's words, "substantially more money."
"He conveyed to us that he wanted to play in the NHL and that his experience in Montreal wasn't typical of what he could do, so from that standpoint it was probably a good first impression," Poile said. "Having said that, we got into training camp, and, honestly, things were slow. He was a little shy in fitting into our team.
"Like a lot of things in life, you get a lot of opportunities. We had lots of injuries and he quickly moved up in the lineup. Once he moved up in the lineup, he took full advantage and he hasn't looked back and he's really blossomed as a player this year."
Kostitsyn – known in Nashville as "SK74," his initials and his number – said the change was "awesome."
"I really like the system and our coach feels confidence in me, so when you play a lot, you feel much comfortable on ice, much confidence," the 24-year-old said.
If Kostitsyn came to Nashville with the reputation as a one-dimensional offensive player – Poile said his intent was to add offense while having the confidence that the team's coaching staff "can mold an offensive player into a being defensively adequate" – the Predators again were pleasantly surprised.
Coach Barry Trotz said when he reviewed video from Montreal after the acquisition, he learned that Kostitsyn mostly played on a checking line with Travis Moen and Dominic Moore.
"Actually, it's a little misnomer," Trotz said. "Everybody thinks Sergei's a pure offensive guy… He wasn't on the power play (in Montreal). He was purely a checking line (player). He's got great defensive instincts which, when we were getting him, I was thinking we were getting a pure offensive player. And then I watched him … they really valued his instincts defensively. So surprise,
surprise, we got a guy who's good defensively, as well as contributed offensively.
"He's been a good fit for us."
Poile praised Kostitsyn's hockey sense and his "awareness of where to be, what to do."
"He's capable of playing on the power play and capable of killing penalties," Poile said.
Kostitsyn and Fisher have played together in almost every game since Fisher arrived from Ottawa in February. The addition of Hornqvist, known as a pest in front of the net who will score greasy goals, came later.
"It took a bit of time," Fisher said. "There was a bit of a stretch there where we struggled a little bit when we first played with Hornie. … It just seemed to be getting better and better. Those guys have really complemented each other. I think I've fit in pretty well.
"Hornie's been a guy who's been getting in front, getting his nose dirty. Serge likes to shoot when he can and he's a good playmaker. I'm kind of more of a shooter, too."
Kostitsyn had the primary assist – a highlight reel cross-ice pass from the right circle to Fisher for an open net – on the game-winning goal in Game 3.
"We kind of just found that chemistry and got on a bit of a roll and when you do that you kind of believe in yourself as a line," Fisher said, "and know that you can go out and score and get that belief in yourself and we've managed to do that."
Kostitsyn said it has been easy playing with Fisher.
"He's really good two-way player," he said. "He can play great defensive zone and create some chances in offensive zone."
Having Fisher win 65 percent of his faceoffs in Game 3 didn't hurt either.
"You can start with the puck every time, it's really good," Kostitsyn said. "You don't have to go and get it. You start with the puck and it's much better."