PGA Championship: Iwata matches lowest single-round score in a major with 63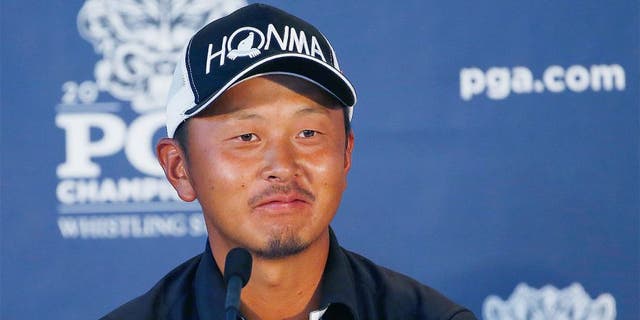 NEWYou can now listen to Fox News articles!
Hiroshi Iwata of Japan fired a 90-yard wedge from the rough on No. 18 that nearly rolled in before settling 3 feet from the cup. That tap-in par for a 63 was the best score at the PGA Championship so far and good enough to match the lowest single round ever in a major.
"I'm honored to be here to be interviewed. But when I came in," Iwata smiled and said through an interpreter," I thought it was going to be more people."
Iwata's round Friday was 14 strokes better than his opening-day score of 77, which came in drier, much windier conditions. He is at 4-under 140 for the tournament, five shots behind leaders Jason Day and Matt Jones when play was suspended for the day because of a storm.
Just two months ago, Iwata shot a 10-under 62 in the second round of the Thailand Open. Asked the difference between those rounds, he laughed and said, "Just one shot different. Nothing else."
The 34-year-old pro has won twice on Japan's tour and is currently No. 2 on the money list. This was his first PGA Championship and only his second time playing in the United States, following an appearance at the Sony Open in Hawaii, where he failed to make the cut. His best finish on the PGA Tour was a tie for third at the World Golf Championship-HSBC event in November.
Iwata said courses on this side of the Pacific were considerably more challenging because of the long par 4s.
"In Japan, I don't shoot a long iron a lot, but here I have to," he said.
This was the 27th round of 63 recorded at a major -- the 13th at a PGA. The previous one came from Jason Dufner at the PGA in 2013 at Oak Hill Country Club.
Johnny Miller hit the mark first, at the U.S. Open in 1973. He remains the only player to close a major with a 63 to win the tournament. Two golfers -- Vijay Singh and Greg Norman -- both shot 63 on two occasions. Isao Aoki, the Hall of Fame golfer from Japan whom Iwata described as a "legend," also shot 63 in a major -- the third round of the 1980 British Open.
Iwata got rolling with three birdies on a front-nine 34. After a birdie at No. 13 -- the last of three straight -- he said thought he might shoot 27 on the back. Instead he settled for 29.
He also seemed prepared for the attention, wearing a black polo shirt with a black-and-white, cross-hatch design on one side of the placket that looked as if he was wearing a tie.
But he acknowledged that he arrived with modest goals, and despite the scintillating performance he didn't want to get ahead of himself.
"When I came here," he said, "I was thinking just to make my game better and better and on Sunday, I can be in the top 10."