Pele Disses Messi; Messi Scores 61st Goal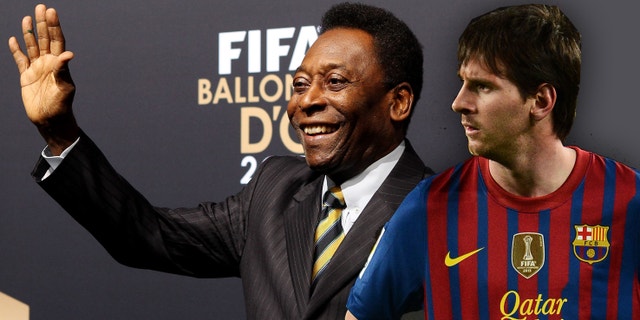 How do you respond when one of the greatest soccer legends of all time says you're not even the best of today?
Soccer legend Pelé says Lionel Messi isn't the best player in the world today — much less of all time.
Pelé said Wednesday that young Brazilian striker Neymar is better than the Argentina forward, and reiterated that he doesn't think Messi belongs in the conversation about who is the best player ever.
Barcelona Surge, Real Madrid Collapse?
That debate has long centered around Pelé and Diego Maradona, but many have started including Messi after a series of outstanding performances with Barcelona.
Pelé, however, said at an event celebrating the centennial of Neymar's club Santos that "there's always this Maradona comparison, saying that he's better than Pelé. Now some are saying that Messi is better than Pele. Well, he has to be better than Neymar first, which he isn't yet. He has more experience."
The 20-year-old Neymar is seen as Brazil's greatest player at the moment.
Messi's 61st goal leads Barcelona past Getafe 4-0
Messi scored his 61st goal of the season and had two assists, leading Barcelona over Getafe 4-0 night Tuesday in the Spanish league and pulling the three-time defending champions within one point of first-place Real Madrid.
Messi capped a superb exchange with Andrés Iniesta with a rising shot into the top corner in the 44th minute. Messi leads the league with 39 goals, one shy of the record Cristiano Ronaldo set last season.
Messi has scored in 12 of his last 13 games, totaling 24 goals. He is the first player to reach 60 for a club in a major European league since Bayern Munich's Gerd Mueller scored 67 goals in 1972-73.
Soccer-Mad Church Worships Diego Maradona as a God
Alexis Sánchez scored in 13th and 73rd minutes and Pedro Rodríguez in the 75th as Barcelona (24-2-6) won its 10th straight league game.
Real Madrid (25-2-4) can restore a four-point lead by winning at Atlético Madrid on Wednesday.
Based on reporting by the Associated Press.
Follow us on twitter.com/foxnewslatino
Like us at facebook.com/foxnewslatino