Patrick Beverley trolls Russell Westbrook for bragging about his 40+ points in loss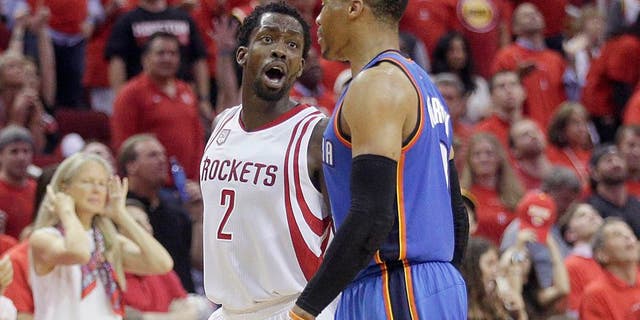 NEWYou can now listen to Fox News articles!
As the Houston Rockets tried to pull away from the Oklahoma City Thunder in Game 5 on Tuesday night, guards Patrick Beverley and Russell Westbrook had a little bit of a moment:
After the game, Beverleyexplained what went down:
"That's actually the first time we've exchanged words this postseason. But he's a really good player. He applies a lot of pressure just due to his athleticism and his creating ability.
"But it shocked me, because he looked up and said, 'No one can guard me, I got 40 points.' I said, 'That's nice. You took 34 shots to get it.' I'm not out here trying to bash anybody, but I mean, men lie, women lie, but the numbers don't. Collectively, as a unit, we've done a great job on him. We tried to make him shoot a lot of tough shots, and the numbers show it."
Now, in Westbrook's defense, he actually took 34 attempts(and made 15) to score 47 points, not 40.We're guessing Beverley would stand by his point, though. The Rockets held Westbrookjust shy of a triple-double (11 rebounds, nine assists)in Game 5.
Westbrook gave his version of things after the game as well, telling reporters Beverley boasted about being"first-team All-Defense." Westbrook was confused, as Beverley has made just one All-Defensive team a second-team selection for the 2013-14 season:
Houston claimed a 4-1 series victorywith Tuesday night's 105-99 win. Beverley had 15 points on 6-for-10 shooting, eight rebounds, three assists and a steal; James Harden led the Rockets with 34 points on 8-for-25 shooting.
Troy Taormina-USA TODAY Sports | Troy Taormina