Padres head to New York for 3-game series at Mets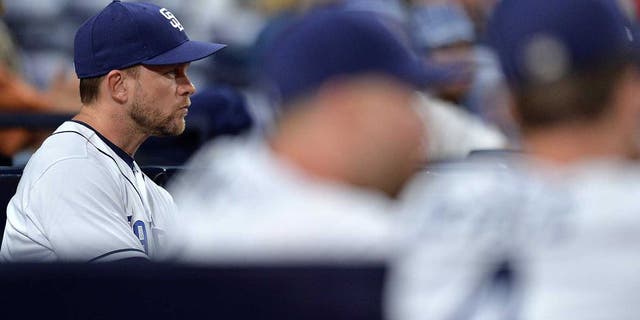 NEW YORK -- A pair of teams on the verge of receiving some vital reinforcements will square off Tuesday night when the New York Mets host the San Diego Padres in the opener of a three-game series at Citi Field.
Both teams were off Monday night. The Mets saw their two-game winning streak end Sunday with a 12-5 loss to the visiting Los Angeles Angels. The Padres snapped a five-game losing streak Sunday, when Clayton Richard tossed a complete-game five-hitter in a 5-1 win over the visiting Arizona Diamondbacks.
"There was just a little more importance with it today, with how the last couple days have went," Richard said following the victory. "I really wanted to be out there as long as I could to give the team a little breathing room."
Despite the win Sunday, the Padres (16-30) still own the worst winning percentage in baseball. San Diego continued tinkering with its roster Sunday, when it claimed utility man Chase d'Arnaud off waivers from the Boston Red Sox.
D'Arnaud will likely be in uniform Tuesday, when the Padres are expected to recall infielder Carlos Asuaje from Triple-A El Paso. In addition, San Diego will need to recall a starting pitcher later in the week to replace injured right-hander Jered Weaver, who was placed on the 10-day disabled list on Saturday due to right hip inflammation.
Chase d'Arnaud probably won't be the only member of his family to arrive at Citi Field this week. Travis d'Arnaud, the younger brother of Chase and the Opening Day catcher for the Mets (18-24), will likely be activated from the 10-day DL during the series.
Travis d'Arnaud, out since May 3 because of a bruised right wrist, played his fifth rehab game Monday, when he started at catcher for Triple-A Las Vegas. He went 0-for-3, leaving him 5-for-19 (.263) in the minors.
Once Travis d'Arnaud returns to the majors, Mets manager Terry Collins will have to figure out how to divide playing time at catcher, where Rene Rivera has thrived.
Rivera had a career-high 11-game hitting streak snapped Saturday and is batting .308 with two homers and 14 RBIs in 78 at-bats. Travis d'Arnaud is hitting just .203 with four homers and 16 RBIs in 59 major league at-bats.
"He's been absolutely a brilliant, important piece of our lineup the last two weeks," Collins said Sunday of Rivera. "And when Travis comes back -- we haven't made any decisions -- but certainly Rene's going to get some playing time."
The Mets' Matt Harvey (2-3, 5.56 ERA) is scheduled to face the Padres' Jhouyls Chacin (4-3, 4.61 ERA) on Tuesday in a matchup of veteran right-handers.
Harvey's winless streak hit six starts last Wednesday, when he didn't factor into the decision after giving up three runs over 5 1/3 innings as the Mets fell to the Diamondbacks 5-4. He is 2-1 with a 3.38 ERA in four career starts against the Padres.
Chacin pitched well in a no-decision last Wednesday, when he allowed one run and surrendered a season-low two hits while striking out a season-high eight hits over seven innings in the Padres' 3-1 loss to the Milwaukee Brewers. He is 1-4 with a 4.84 ERA in seven career games (six starts) against the Mets.