Novak Djokovic sweeps aside del Potro in US Open final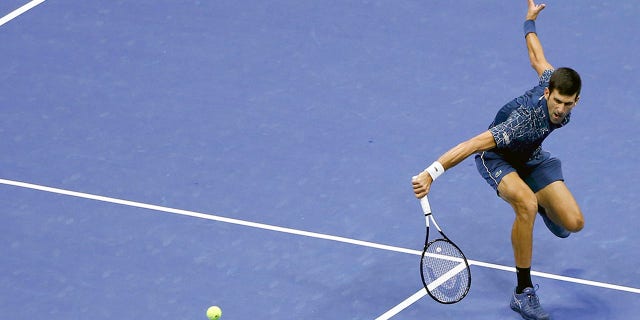 No controversy here: Novak Djokovic is the U.S. Open men's singles champion.
One day after the women's singles final was marred by a confrontation between Serena Williams and chair umpire Carlos Ramos, Djokovic defeated Juan Martin del Potro, 6-3, 7-6 (4), 6-3 with a minimum of fuss to secure his third title in Flushing Meadows and his 14th Grand Slam singles crown.
The Serb appeared to be on course for an easy victory when he went up a break in the second set to go up 6-3, 3-1. But del Potro broke back, then held at love and had chances for another break on his next opportunity before Djokovic finally held to end a 22-point game that lasted more than 20 minutes.
Del Potro led the ensuing tiebreaker, 3-1, before Djokovic recovered to win six of the next seven points and wrap up a 95-minute second set.
The third and final set nearly followed the same script, as Djokovic again broke del Potro to take a 3-1 lead only for the Argentinian to break back and level the set at 3-3. But Djokovic was in no mood to hang around, winning the last three games to clinch the crown.
When it ended, thanks to a three-game closing run by Djokovic, he flung his racket away and landed on his back, arms and legs spread wide.
"Of course I'm sad I (lost)," del Potro said. "But I'm happy for Novak and his team. They deserve to win."
Djokovic's victory, coupled with his July triumph at Wimbledon, ties him with Pete Sampras for the most men's Grand Slam singles titles. Only Roger Federer (20) and Rafael Nadal (17) have more.
"I was hoping he was going to be here, but he's not," Djokovic said about Sampras. "He's my idol. Pete, I love you."
Despite the typically enthusiastic backing of his fellow Argentinians, Del Potro was denied a second U.S. Open title nine years after his dramatic 2009 triumph -- a high-water mark in a career that was nearly derailed by four wrist operations.
"I'd just like to congratulate Juan Martin ... for still having faith, for still having belief in himself," said Djokovic, who gave his pal a hug at the net, and then went over to console del Potro as he wiped away tears at his sideline seat. "I believe he'll be here again with the champion's trophy. I really do."
The Associated Press contributed to this report.