No jail time for Chilean soccer star who wrecked Ferrari while drunk, can play in Copa América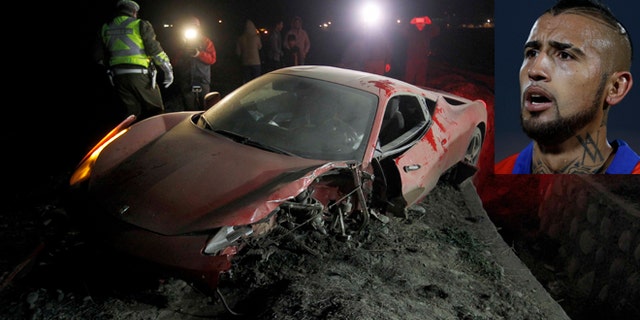 Associated Press – Chile's star midfielder Arturo Vidal was banned from driving for four months by a Chilean judge on Wednesday after he crashed his Ferrari while driving under the influence of alcohol.
Despite the judge's ruling, Chile national team coach Jorge Sampaoli says Vidal can continue to play for the Chile, which is among the favorites in on-going Copa América, the South American championship.
Vidal appeared in court on Wednesday after being held overnight in a local jail. He suffered minor injuries in the crash, as did his wife, who was a passenger.
The court said Vidal showed 1.21 grams of alcohol in his blood per liter. Any level above 0.8 can be punished by up to three years in prison.
Vidal scored twice on Monday in Chile's 3-3 draw with Mexico and is the leading scorer in the tournament with three goals.
A photo of the accident showed heavy damage to the left-front of the Ferrari and the airbags apparently deployed.
''Unfortunately I was involved in a traffic accident," Vidal wrote on his Twitter account, in Spanish. "Luckily we are all well and calm. Thanks for worrying."
Like us on Facebook
Follow us on Twitter & Instagram