NNS: Pastrana Ready To Put On Show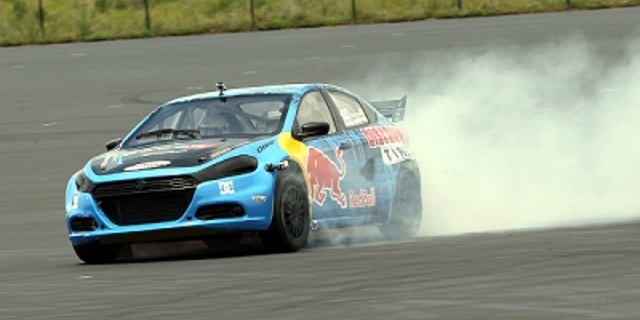 Travis Pastrana looks normal enough. Seated in zMax Dragway's media center and wearing shorts, a Red Bull t-shirt and cap, plus bright blue sneakers, he looked like a regular guy about to go work out or maybe take a long bicycle ride on a hot spring day.
Instead, he went out to the zMax parking lot, buckled into his 600-horsepower Dodge Dart Global RallyCross car and became a total madman, electrifying onlookers with four-wheel drifts, smokey burnouts and hair-raising car control. Ultimately, Pastrana literally backed his Dodge into the fence at zMax, not once, but twice. Oh, well. Stuff happens.
The folks at Charlotte Motor Speedway are counting on Pastrana to put on a big show today and tonight at the 1.5-mile track. Pastrana will compete first in the NASCAR Nationwide Series 300 at 2:45 p.m., then the season-opener for the Global RallyCross series at 6 p.m.
And while his long-term future is in NASCAR, there's no question he's excited about the Global RallyCross event.
"You're going to look for zero to 60 in under three seconds, which is absolutely ridiculous," Pastrana said of his Dodge Dart. "They're running similar horsepower as the NASCAR cars, but they're so much lighter and with all-wheel drive, they take off like a rocket ship. Wherever your front-end tires are aimed, that's where you're going. It's definitely a very well-handling machine. I'm looking forward to getting out there."
Dodge, Hyundai, Ford and Subaru all will be represented Saturday night, and Pastrana said there's a lot of pressure on the drivers to perform. And that, in turn, ups the performance ante substantially.
"There are a lot of manufacturers putting in a lot of money, and there's going to be a lot of carnage because every driver is going to try to prove that they are the driver that they want their manufacturer to stick with," he said.
No question, the action should be compelling.
"It's going to be absolute carnage because the two corners that are 180 (degrees) at the end of the straightaways, you're going to be coming about 130 miles per hour to a hairpin," said Pastrana. "It's pretty easy to pass someone if you stay on the gas a little longer and just when you use eight tires, it's always better than four tires so it's going to be a lot of fun out there."
There will be four heat races, with four cars in each of the first three heat races and five cars in the last one. The top two finishers in each heat race will advance to the final.
"Everybody's sitting door handle to door handle on the grid, and it's going to be like four missiles going off the line at one time," said David Binks, who will race alongside Pastrana in the third heat. "It's spectacular."
The course will be set up along the frontstretch and pit road at CMS, totaling three-quarters of a mile in length.
"There's going to be so many lines in so many corners, as well as the real tight, twisty technical corners we've got, so I think the fans are going to get to see some fresh new racing that's going to excite the drivers as much as the fans," said Binks.
And even though the RallyCross drivers will be driving lightweight pocket rocket subcompacts instead of the much bigger and heavier NASCAR race cars, Pastrana said to expect the boys to have at it.
"I guess to explain RallyCross to the NASCAR fans, picture the last five laps of a NASCAR race, because it's only a five-lap event, and then picture that every single person on the grid started in the first two rows, and that's pretty much what you have. It's Hail Mary, everyone going for it, lot of carnage, and lot of banging," he said.
Tom Jensen is the Editor in Chief of SPEED.com, Senior NASCAR Editor at RACER and a contributing Editor for TruckSeries.com. You can follow him online at twitter.com/tomjensen100.