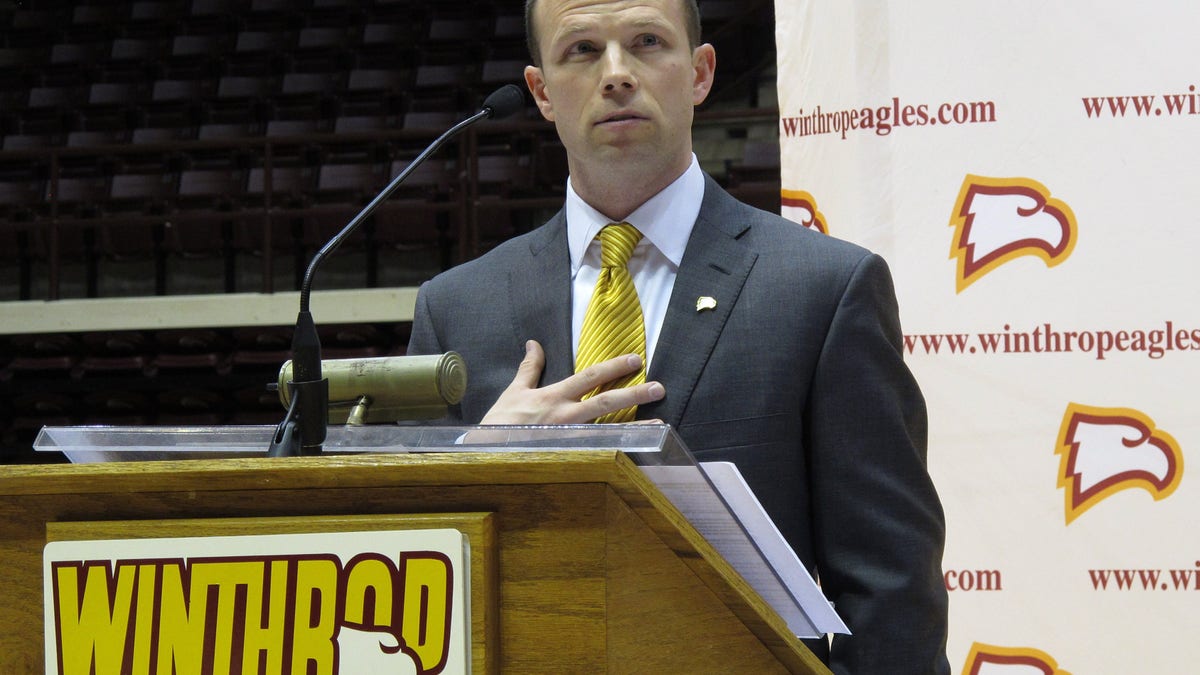 COLUMBIA, S.C. – Becky Kowalski knew a few moments after she heard the heartfelt words of Winthrop men's basketball coach Pat Kelsey about the shootings in Newtown, Conn., that he understood her family's pain.
Becky and husband Stephen were mourning the loss of their 7-year-old son Chase, one of the 20 children and six adults killed in the Sandy Hook Elementary School shootings 14 months ago, when they heard Kelsey's comments.
A father of three, Kelsey empathized with those parents in Newtown. Less than a week after the shootings during a postgame press conference following Winthrop's loss at No. 7 Ohio State on Dec. 18, Kelsey said officials from President Barack Obama and House Speaker John Boehner to religious leaders, coaches and parents, "everybody needs to step up. This has to be a time for change."
Family friends pointed out Kelsey's comments to the Kowalskis, who began a phone and email friendship with Kelsey. They'll meet for the first time when the family comes to Winthrop for the team's regular-season finale against Presbyterian on Saturday.
Kelsey recalled how he kept thinking about the tragedy during his team's bus-ride north before he let the words flow out at Ohio State. He remembered he was about to leave the lectern when asked by a reporter if he had anything else add.
Kelsey did and his remarks were a mix of compassion and frustration over senseless violence.
He spoke of the joy he'd feel at seeing his daughters (his son was born in March 2013) once back in Rock Hill.
"And I'm going to give them the biggest hug and the biggest kiss I've ever given them," he said after the game. "And there's 20 families in Newtown, Conn., that are walking into a pink room with a bunch of teddy bears with nobody laying in those beds. And it's tragic."
Becky Kowalski said she and Stephen admired Kelsey's courage to speak his mind during his postgame remarks.
"He touched our hearts and we agreed wholeheartedly in his words. Shortly after, we had the opportunity to speak with him and realized the magnitude of his emotion from the tragedy and the sincerity of his passion to help," she said in an email to The Associated Press.
Kelsey was stunned when the Kowalski's reached out to him. There were so many voices raised in protest that the second-year coach wasn't sure his would have any impact at all.
"It just came over me. I watched it later and thought, 'Gosh darn, I'm not that eloquent of a speaker,'" he said. "But it seemed to resonate with a lot of people."
It certainly did with the Kowalskis.
Becky even shared the family vision of keeping Chase's memory alive through a foundation in his honor.
"Becky said that Chase spoke to her in a dream and told her, 'Mom, we are going to change the world,'" Kelsey said.
In January 2013, Winthrop marketed shirts with Kelsey's words from Ohio State, "It's Time To Step Up" and the phrase "Remember Newtown" on them. Proceeds went to the Sandy Hook Elementary School Support Fund that helped all victims. The school said it did not have records of how many were sold or how much was donated.
Kelsey had raised the idea attending a Winthrop game last offseason. The Kowalskis had planned to make the trip Valentine's Day weekend, but weather forced them to postpone it until now. Kelsey and the Kowalskis will use part of this postgame to raise awareness for the CMAK (Chase Michael Anthony Kowalski) Sandy Hook Memorial Fund.
The foundation raises funds through initiatives like Race4Chase because he was avid athlete who had taken part in youth triathlons.
The Kowalskis — and daughters 10th-grader Erin and seventh-grader Brittany — are scheduled to arrive Friday and will spend some of Saturday prior to the game in the Charlotte area, about 20 miles north of campus. Kelsey said officials at racing's Hendrick Motorsports operations sent gifts and arranged a tour of the NASCAR Hall of Fame because Chase was also a big race fan.
Winthrop players will wear the names of the young Sandy Hook victims on their jerseys Saturday. Forward Joab Jerome, one of two seniors playing their last home game, will wear Chase's name. Winthrop coaches will wear patches with the initials of one of the six adults killed.
After the game Kelsey and the Kowalskis will spend time together over dinner.
Becky Kowalski said the past year has been one of healing helped by meeting people like Kelsey. The weekend visit is another step in that never-ending process.
"We hope to strengthen our friendship," she said, "and continue working together on our journey to help children, families and communities."
___
www.chasekowalskifund.com