New York Knicks guard Raymond Felton charged with gun possession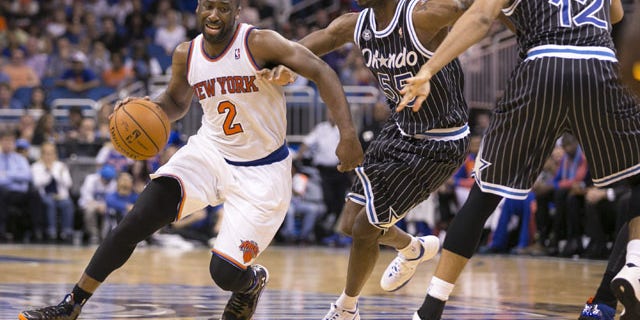 NEWYou can now listen to Fox News articles!
New York Knicks starting point guard Raymond Felton has been charged with three counts of weapons possession after allegedly pointing a gun at a woman early Tuesday morning.
New York Police Department Sgt. Thomas Antonetti told the Associated Press that Felton, 29, turned himself in at 12:50 a.m. Tuesday and was questioned by police on Manhattan's Upper West Side. Hours earlier, Felton had scored eight points and recorded seven assists as the Knicks lost 110-108 to the Dallas Mavericks at Madison Square Garden.
Antonetti told AP the charges don't stem from Felton using the firearm in a menacing manner, but from possessing a gun he wasn't registered to have. The sergeant added that the 29-year-old will face a hearing sometime Tuesday.
The New York Post reported earlier this month that Felton's wife, Ariane, had filed for divorce after 19 months of marriage, though the grounds for the divorce were not disclosed. The paper also reported that the woman involved in the incident early Tuesday was Felton's girlfriend, though that was not immediately confirmed by authorities.
Felton, who played in college at the University of North Carolina, has one full season remaining on a three-year, $10 million guaranteed contract signed prior to the 2012-13 season.
Click for more from the New York Post
The Associated Press contributed to this report.