New age Man of Iron, Murofushi aims high in London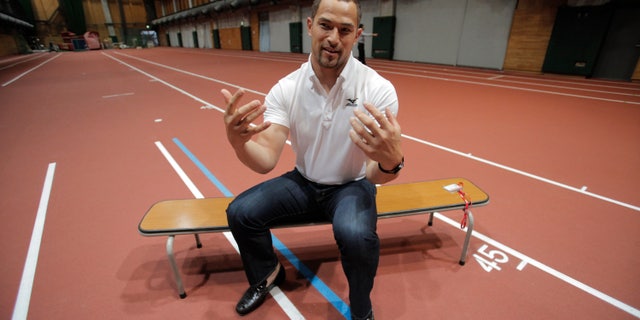 NEWYou can now listen to Fox News articles!
TOKYO – Being the son of "Asia's Man of Iron" gives Koji Murofushi plenty of confidence when he's throwing the hammer.
Having studied the event in minute detail for a doctoral degree is yet another advantage in competition.
With Olympic pedigree on both sides of the family, Murofushi is considered one of Japan's best prospects for a medal in track and field at the London Games. He doesn't consider age -- he is 37 -- as a barrier.
Murofushi has a gold medal from the Athens Olympics and almost got a bronze in Beijing. Last year, he became the oldest world champion in hammer throw, so his credentials are up to date.
Murofushi was introduced to the sport at a young age. His father Shigenobu earned the "Man of Iron" nickname while throwing the hammer for Japan in three Olympics; his mother Serafina was an Olympic javelin thrower for Romania.
He began learning the techniques of the hammer from his father when he was 10. To this day, his father -- who competed at the Munich, Montreal and Los Angeles Olympics and won five Asian Games titles -- offers advice and can usually be found watching competition from the stands with video camera in hand.
"I'm very fortunate that my father was an athlete and also a coach," Murofushi said. "We always have something to talk about as we have been on the same stage. He's my biggest supporter."
The younger Murofushi is one of Japan's most recognizable athletes. His easygoing personality and good looks make him a natural for TV and he appears in commercials pitching everything from a major courier company to beer.
While Murofushi is larger than most Japanese men, his 6-foot-1, 218 pound frame isn't big compared with many of his rivals in the hammer, and he needs to rely more on brains than brawn.
So he enrolled in the Chukyo University Graduate School of Physical Education in 1997 to master the rotational theory and technique of hammer throwing and earned a doctorate degree in biomechanics in 2007.
All the hard work in the library and the field paid off again last year when he won at the world championships in Daegu, South Korea, with a throw of 81.24 meters.
"I was so pleased to win the world championship at the age of 36," Murofushi said. "It was a credit to the hard work of my team and gives me confidence for London."
Murofushi credits a lot of his recent success to Swedish coach Tore Gustafsson.
"We've been working together since 2005," Murofushi said. "He used to be a hammer thrower, he holds the Swedish record. He's opening a chiropractic clinic in California so he can take care of the body and offer input on technique as well so we share a lot of information."
London will be the fourth Olympics for Murofushi. Eastern Europeans have dominated the sport over the years and Murofushi can expect tough competition in London from Beijing gold medalist Primoz Kozmus of Slovenia and world silver medalist Krisztian Pars of Hungary.
"My goal in London is to throw consistently at 80 meters," Murofushi said. "That gives me more of a chance for a medal, if you can throw consistently at 80 meters -- that can take the pressure off."
Murofushi took the title in Athens after Hungary's Adrian Annus was stripped of the gold for a doping violation.
In Beijing, Murofushi's best throw was fifth in the rankings but was initially elevated to the bronze medal position after the Belarusian gold and silver medalists were disqualified for testing positive for abnormal levels of testosterone.
The Court of Arbitration for Sport later ruled, however, that the disqualified Belarusians should get their original medals, due to errors at the Chinese medical lab, moving Murofushi back down to fifth.
"If you want to climb a mountain you have to prepare, you need a lot of effort and teamwork and when you get to the top, you feel a great deal of satisfaction," Murofushi said. "But if you are taking drugs to make your result better, it's like taking a helicopter to the top. It's not the same as doing it on your own."
A medal won't be the only thing Murofushi is seeking in London. He is one of 21 athletes up for nomination to the International Olympic Committee's Athletes' Commission.
"I am standing because I would like to help athletes after retirement," Murofushi said. "This is a very serious problem, I train in the U.S. and have seen how some athletes are not well prepared for life after their careers, all of a sudden their careers are over and they don't know what they are going to do."
Murofushi said he has no immediate plans to retire.
"I want to compete as long as possible," Murofushi said. "When you are young you can compete in anything but when you get old you have to pick your competitions more carefully. I'll just have to be more selective."
When he asks his coach if he reckons he can take part in the 2020 Olympics, which Tokyo is bidding to host, Gustafsson doesn't miss a beat, replying: "How about 2024?"