NASCAR to limit Premier Series driver participation in lower series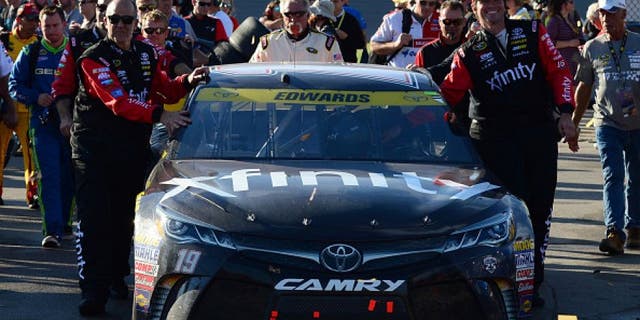 In a move designed to hopefully promote driver development, NASCAR announced on Wednesday that it will limit the number of events a Premier Series driver can enter in the XFINITY Series and the Camping World Truck Series, beginning next season.
In a release, NASCAR said that it hopes this will "put an even brighter spotlight on the next generation of stars and bolster the identity of all three of its national series."
Starting next season, Premier Series drivers -- in what currently is called the Sprint Cup Series -- with more than five years of full-time experience will be eligible to compete in a maximum of 10 races in the XFINITY Series and seven races in the Truck Series.
Additionally, drivers with more than five years of full-time experience in what is currently Sprint Cup will be ineligible to compete in the final eight races in each series, as well as the Dash 4 Cash races in the XFINITY Series. The final eight races are comprised of the regular-season finale and the entirety of the Chase in each series.
This is the first season that the Chase playoffs have been used to determine the champion in the lower-division series.
Drivers earning Premier Series points in 2017 also will not eligible to compete in the winner-take-all, championship races in the season finales for the lower divisions at Homestead-Miami Speedway.
"The updated guidelines will elevate the stature of our future stars, while also providing them the opportunity to compete against the best in professional motorsports," said Jim Cassidy, NASCAR senior vice president of racing operations. "These updated guidelines are the result of a collaborative effort involving the entire industry, and will ultimately better showcase the emerging stars of NASCAR."
Drivers with more than five years of full-time experience in the Premier Series still can run for an XFINITY Series or Truck Series championship, provided they have declared for championship points in the respective series and aren't also attempting to run full-time in the higher series.
Wednesday's announcement signals the next step in NASCAR's driver participation guideline evolution, and obviously is designed to curtail the level of domination by Cup drivers that has been on display in particular in the XFINITY Series in recent seasons. This season, for instance, Cup regular Kyle Busch -- the all-time leader in wins in what is now the XFINITY Series with 85 -- has won nine of the 16 XFINITY races he's entered.
Prior to the 2016 season, NASCAR announced that members of the 2015 Chase for the Sprint Cup field would be ineligible to compete in the 2016 championship races for the XFINITY Series and Truck Series. In 2011, NASCAR implemented a rule requiring drivers to select one of the three national series in which to collect championship points.