Murphy extolled by Padres players for poise, intelligence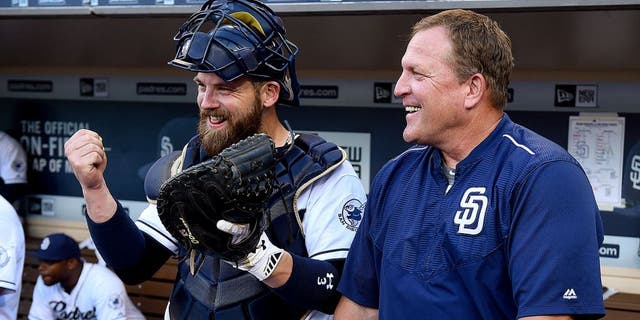 Pat Murphy's fate after this season is uncertain, but ifthe San Diego Padres players had their say, they'd stick with their interimmanager for 2016 and beyond.
Murphy, who is managing in his first season in the majorsafter the Padres fired Bud Black a couple months into the season, hasn't hadmuch more success than Black, but he's quickly earned the respect andadmiration of the Padres' dugout.
"Murphy's done a great job," said pitcher JamesShields. "It was a tough situation to come into especially because of thefact that Murphy and Buddy were such good friends. He's definitely a veryintelligent manager. One of the reasons I came here was because of Buddy, butI'd be totally comfortable with [Murphy] coming back."
It isn't just Shields that vouches his support for thefirst-time manager. Another one of the club's new additions had positiveremarks for the skipper as well.
"The little bit of time I spent with Buddy, it wasgreat, but Murphy has come in and done a great job," Upton said."It's been really, really tough on him. Coming in in the middle of theseason would be tough on anybody. But he's handled this well, man. He's behindus and we're behind him."
Heading into Friday's game against the St. LouisCardinals, Murphy (27-28) holds a very similar record to fired manager BudBlack (32-33) this season, which has fans wondering if he has convinced thePadres' front office that he's their guy.
With his future on the line, Murphy says he hasn't beenwrapped up in his status after the season.
"I'm looking at it as we just have a ballgametonight. I'm being honest," Murphy said. "I don't even know what dayit is. I'm just thinking about making the right decisions and putting us in aposition to have the right outcome. I'm not thinking about my situation at all.I know it's there. I'm not denying it's there. I know I'll have a job somewherenext year. I think I will."