Mother of slain Athletics prospect tells tells defendant to 'Rot in hell'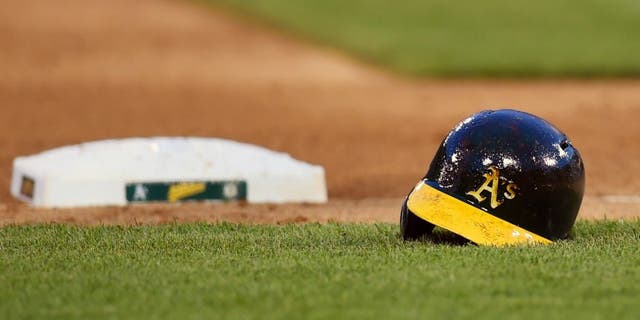 The mother of an Oakland Athletics prospect killed in September of 2015 tore into accomplices of her son's killer in a tense and emotional scene on Thursday in a New York courtroom.
Michael Nolan, an 18th-round pick of the team in 2014, died at a hospital weeks after being shot twice in the parking lot of a Burger King in Yonkers.
Donna Nolan lashed out at one of the defendants in court.
Fighting through tears, Donna Nolan verbally lashed out at Darren Dawson for rolling his eyes at her as she wondered out loud how she would survive without her son.
"I really don't give a damn what you feel or what you think," she told Dawson in Westchester County Court this morning. "You didn't feel anything. I hope you rot in hell. I don't give a damn if you die in prison."
Dawson and another accomplice, Tejmitra Singh, were sentenced to 9 and 11 years, respectively. Each pleaded guilty to first-degree assault.
Nashaun Hunter, the shooter, is expected to be sentenced to 25 years in prison on Nov. 16. He pleaded guilty to a reduced charge of first-degree manslaughter, after initially being charged with second-degree murder.
Garth O'Neil Cole, pleaded guilty on Aug. 3 to second-degree criminal possession of a weapon. He is scheduled to be sentenced on Dec. 1 to five years.
From Lohud:
"I never get to see my son again," she said during Singh's sentencing. "I hate their guts. There's never, ever going to be forgiveness. They took my son, but they can't take my memories. I wish nothing but misery for them."
Jimmy Nolan said in court that his brother was "an incredible person" and "more than a baseball player."
A 6-foot-7 left-hander, Nolan was selected out of Oklahoma City University 552nd overall in the 2014 Draft.