Mom says she was in exam room when Larry Nassar sexually abused daughter
A mother expressed the grief and anger she felt after discovering her daughter was sexually abused by disgraced doctor Larry Nassar while she was in the examining room with them.
Kristen Chatman, the mother of Chloe Myers, wrote an opinion piece for the Indy Star – the same publication that first reported on the bombshell sexual abuse allegations against Nassar – in which she said that everyone in the gymnastics world trusted the disgraced doctor.
Chatman wrote her daughter sought treatment for many injuries from Nassar over a three-year period and even saw him during after-hours when she badly hurt her back and could hardly walk.
"'How nice of him!' we thought. Little did we know that this was a pattern of his behavior," she wrote.
During one visit, with Chloe already on the exam table, Chatman noticed something suspicious.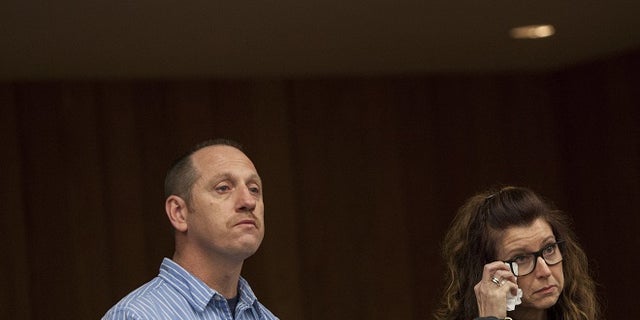 "She was fully covered – even wearing running shorts. I, unlike others, don't remember him 'blocking' my view, but since she was covered, I was unaware of what he was doing under the sheet," Chatman wrote. "After he was done, he washed his hands and I remember thinking, 'Did he just do what I think he did? Where are his gloves?' I immediately dismissed the thoughts as there must have been some good reason. This was Larry after all. No need to question him. I trusted him. We all trusted him."
ALY RAISMAN SAYS EX-OLYMPICS COACH KNEW OF LARRY NASSAR SEXUAL ABUSE
Following the incident, Chatman said her daughter could walk again and the treatment worked.
Then came the September 2016 expose in the Indy Star that rocked the gymnastics world.
Chatman said she could not believe it until she read the allegations and noticed some similarities with her story.
"Did I let someone assault my daughter in front of my very eyes? Never would I ever allow that to happen! My children are my world and anyone who knows me, knows that about me. So how could this have happened?" she wrote.
The mother explained that she "accepted the good, the bad and the ugly" when it came to the gymnastics world her daughter was involved in. She said she did not want to separate Chloe from the people she spent most of her time with each week.
Chatman said she thought Nassar was a "kind, gentle man" who seemed concerned for his patients until the truth of his sexual abuse came to light.
"But that trust was manipulated. It was twisted and contorted for Larry's benefit. We, the parents, unknowingly entrusted our most precious daughters to someone, who on the surface looked like a lamb, but was really a wolf in sheep's clothing," she wrote.
Chatman said Chloe filed a complaint with the attorney general's office and told investigators of the abuse. Her daughter testified against Nassar at one of the hearings but through a video.
MICHIGAN STATE TO FIRE MEDICAL DEAN OVER LARRY NASSAR SCANDAL
Chatman wrote that she has been reading comments from people who asked how these parents could not have known of Nassar's abuse. She said the "crushing guilt" the parents have gone through could not be explained "without walking in the same shoes."
She went on to defend the parents stating that none of them "knowingly allowed their child to be abused" and also were manipulated by Nassar like their daughters.
"So as one of the parents in the room, I beg you to reconsider sharing your blame and shame opinions. To consider for a minute, 'what if it was you?' I can promise you. You would have done the same thing," she wrote.
Nassar, 54, was accused of molesting at least 250 girls. On Monday, the worst sex-abuse case in sports history ended with a third long prison sentence for Nassar — this time 40 to 125 years for molesting young gymnasts at Twistars, a Michigan gym where Nassar offered treatments to athletes on Monday nights.
The scandal threw the gymnastics world on its head and led to multiple resignations from the USA Gymnastics board. Nassar was also a Michigan State University doctor. The university was currently being probed on how much it knew of the abuse by Nassar.
The Associated Press contributed to this report.