MLS All-Star game: A Measuring Stick Against International Powerhouse Manchester United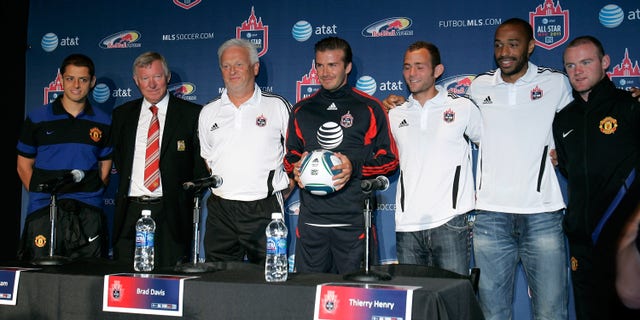 As All-Star games go, Major League Soccer has created a unique model.
Instead of having the Eastern and Western Conference play in a game that probably be devoid of physical play, MLS has decided to venture where no other American professional sports league has gone -- putting its reputation on the line against international sides.
Except for one year since 2003, MLS has taken on the likes of Chivas de Guadalajara, Fulham, Chelsea, Celtic, West Ham United, Everton and Manchester United.
But in some ways the league also has created a monster.
While it posted relatively easy wins early on, the league had a reality check last year when United recorded a 5-2 win in Houston last year.
So, MLS is under pressure to win, and if it doesn't record a victory, it would do well to not to be embarrassed in this year's game at Red Bull Arena in Harrison, N.J. Wednesday at 8:30 p.m. (ESPN2).
Certainly, MLS does not want to repeat recent history, especially in the wake of United's 7-0 demolition of the Seattle Sounders FC in a World Football Challenge match last week. United manager Sir Alex Ferguson called it a "false result" and an "unusual game" because his team converted seven of its eight chances.
"It looked as though it was a real slaughter against Seattle, but that wasn't the case," he said.
Sir Alex was being kind with his spin because 7-0 is still 7-0 and that's how everyone is going to remember it.
The MLS won't have all its weapons at its disposal as Los Angeles Galaxy and U.S. international midfielder Landon Donovan dropped out due to a calf injury.
So, instead of performing for the right for a league to have home-field advantage in the World Series, MLS will play for its pride and international reputation. This game won't be under the radar internationally.
"Every game like this is important for the league," MLS All-Star coach Hans Backe said. "It would be nice to pick up a result and show not only this league and the fans here, but those in Europe that you can compete, especially in a preseason game. If we have a good day I think it's absolutely a possibility we pick up a good result. We have only one session with these guys, but they are experienced guys. Tons of experience. They know the game, they know the basics, we just have to go through it. Hopefully we pick up a good result."
Of course, United has the advantage. Even with some new acquisitions, the players know how to play with each other. The MLS team will have one true session together on Tuesday -- the team had an informal kick-around at Pier 40 in Manhattan on Monday.
"I think we have a chance on Wednesday," said Galaxy captain and midfielder David Beckham, who once starred for United. "It will be tough. It's never easy coming up against Manchester United, no matter where you play in the world. It's going to be a difficult game, but it's going to be a game to enjoy. You don't get many opportunities to play against the likes of Wayne Rooney and Chicharito and so many other players that they've got. As much as we want to win the game it's important that we enjoy it."
If there is anyone who can figure out a way to upend the Red Devils, it is Backe. Even though the Red Bulls sit in third place in the Eastern Conference and have the eighth best overall record in the league, the league named Backe All-Star coach on June 2.
At the time the Red Bulls were near the top of the East and the league thought for convenience's sake it was better to have the coach from the home city direct the All-Star team.
As an assistant coach of Manchester City, Backe was part of an English Premier League team that managed to find a way to sweep a season series with United.
"Two wins in 2008. The first time in 34 years Manchester City won the [season series,]" Backe said with a smile. "It was six points and the goal difference, 3-1."
MLS has assembled an impressive side, which includes former French international striker Thierry Henry, who leads the league with 11 goals, Mexican striker Omar Bravo (Sporting Kansas City), Colombian defender Jamison Olave (Real Salt Lake) and Grenada midfielder Shalrie Joseph (New England Revolution), among others.
United boasts the likes of Rooney, Dimitar Berbatov and Mexican international strike Javier Hernandez, though the team's great revelation of the past season is not expected to play. He just got back from a deserved vacation after a whirlwind season that included helping leading United to the English Premier League crown and into the UEFA Champions League game, where it lost to Barcelona, and playing a vital role in Mexico's run to the CONCACAF Gold Cup crown.
"If you look at that one year, not a lot of rest there," Ferguson said.
With or without Chicharito, United will be a difficult side as it prepares itself for a Champions League final rematch against Barcelona this Saturday.
When it comes to the 69-year-old Ferguson, he has shown few signs of slowing down. He might have won a dozen EPL champions and two Champions League titles, but Sir Alex is hungry and so is his Manchester United team.
"We're not sitting on the success of last year because it does you no good," he said.
And neither would a sub-par performance in a pre-season game against the best of the MLS.
Michael Lewis, who has covered international soccer for three decades, is the editor of BigAppleSoccer.com and TropiGol.com. He can be reached at SoccerWriter516@aol.com.