MLB star slugger stands by Hitler post, says he was supporting 2nd Amendment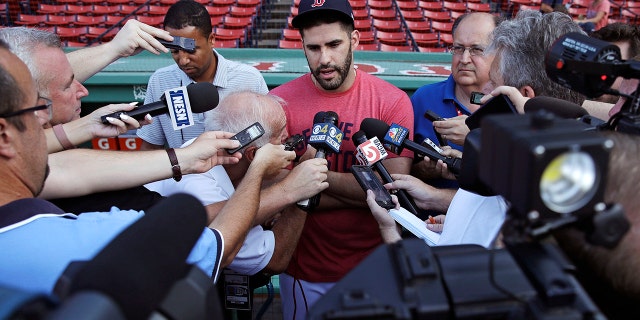 NEWYou can now listen to Fox News articles!
Boston Red Sox star J.D. Martinez stood by his controversial Instagram post showing Adolf Hitler, saying Tuesday he was defending the Second Amendment.
Martinez, a perennial American League MVP candidate, posted the photo in 2013. The picture featured Hitler along with the quote, "To conquer a nation, first disarm it's (sic) citizens." Martinez captioned the post, "This is why I always stay strapped! #thetruth" He was 25 at the time.
"I love my country. I stand by the Constitution and I stand by the Second Amendment," he said when asked about the photo, according to the New York Daily News.
He added that he wasn't aware the quote was falsely attributed to the German dictator, according to the Providence Journal
"It was one of those things where I was really touched at the time," he said. "I saw it and I posted it. I had no intent to offend anyone. It was mostly just to state a point — a political point at the time."
Martinez also told reporters that this was why he didn't talk politics.
"Everybody has a right to stand by what they believe in and that's what makes us American," he said. "We're not all going to believe in the same things, but that's what makes this country so great."
Martinez is batting .337 with 38 home runs and a league-leading 110 RBI. His numbers would be good enough to put him in his first all-star game in July.