Michigan State suspends three players in sexual assault probe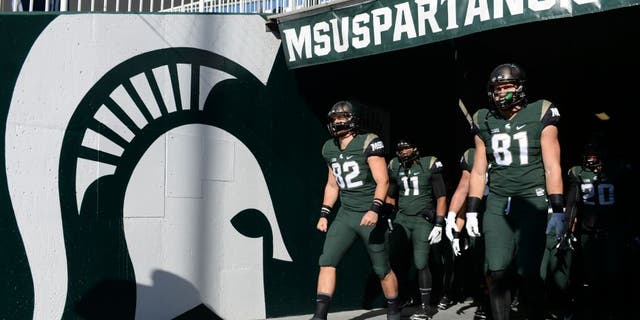 DETROIT -- Three Michigan State football players have been suspended from team activities and removed from on-campus housing as part of a sexual assault investigation.
A staff member associated with Michigan State's football program also has been suspended, school spokesman Jason Cody said Thursday in a release.
Police are expected to forward reports in the case to the Ingham County prosecutor's office for possible criminal charges.
''As part of the criminal investigation, detectives are interviewing members of the coaching staff and other relevant individuals regarding their response since the complaint was made in late January,'' Cody said.
Names of the players were not released, but Cody said the school is retaining a law firm to conduct an investigation into ''football program staff members' compliance with university policy in connection with the allegations.''
A Title IX consultant also has been retained to conduct a separate investigation into whether MSU's Relationship Violence and Sexual Misconduct policy was violated.
''The core values of MSU athletics are clear, consistently communicated and non-negotiable,'' Athletic Director Mark Hollis said in the release. ''Sexual assault is unacceptable, and members of MSU athletics who fail to uphold our standards for creating a culture that is safe, supportive, and responsive to those affected by it will be held accountable.''
Baylor University in Waco, Texas, faces multiple lawsuits as well as a federal civil rights investigation into claims the school and football program ignored, mishandled or tried to cover up reports of sexual or physical abuse and other criminal misdeeds across campus for years.
The scandal led to last year's firing of Baylor's football coach. The school's athletic director also resigned.
Multiple women have alleged Baylor ignored their complaints of sexual or physical assault by football players. School regents have acknowledged an investigation found 17 women who were sexually assaulted, including four cases of gang rape.
Larry Nassar, a former Michigan State sports doctor and former volunteer doctor with USA Gymnastics, faces civil lawsuits from more than two dozen former athletes who say they were assaulted during treatments.
Nassar has denied the allegations. Separately, he's charged with assaulting a girl at his Lansing-area home and possessing child pornography.