Miami Marlins at New York Mets game preview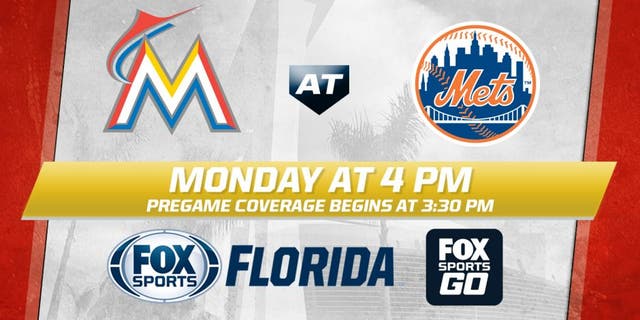 TV: FOX Sports Florida
Time: Pregame coverage begins at3:30 p.m.
CAN'T GET TO A TV? WATCH IT LIVE ON FOX SPORTS GO
NEW YORK -- The Miami Marlins and New York Mets enjoyed perhaps their most memorable victories of the season Sunday. Now they will to maintain that momentum against each other Monday afternoon in the opener of a three-game series with potential playoff implications.
The Mets remained in second place in the National League wild-card standings with a 14-3 rout of the Chicago Cubs that capped a four-game sweep of the team with baseball's best record. The Marlins, meanwhile, headed to New York fresh off a 5-2 win over the Atlanta Braves in a game played on the grounds of the U.S. Army base in Fort Bragg, N.C.
It was the first time any of the four major North American sports played a regular-season game at a military institution.
"This is the most memorable place I've ever pitched," said Marlins left-hander Adam Conley, who earned the win with six shutout innings. "An absolute honor that (the start) falls on my day and that I get to start here."
A few hours earlier and a few hundred miles up the eastern seaboard, the Mets rode a record-tying performance from third baseman Wilmer Flores -- who went 6-for-6 with two homers and four RBIs -- to a stunningly lopsided win over the Cubs. Flores became only the second Mets player in franchise history to record six hits in a game. Edgardo Alfonzo achieved the feat Aug. 30, 1999.
"Pretty good feeling," Flores said. "Six hits -- I never thought I was going to get six hits ever. It happened. Put some good swings on the ball."
The Mets outscored the Cubs 32-11 during the series even though Chicago sent its top four starters -- John Lackey, Jason Hammel, Jake Arrieta and Jon Lester -- to the mound. New York scored just 30 runs in the 12 games prior to the Thursday opener against Chicago.
"Coming into these four games, I think the guys knew that they had a huge challenge ahead of them, and I think they picked up their game," Mets manager Terry Collins said. "Knew that they had a lot of work to do when you face Lackey, Hammel, Arrieta and Lester. It's not something that's fun to look forward to.
"I think (everyone) said, 'We've got to get it going,' and they did it."
Now the task for the Mets is to remain hot -- or at least to find some consistency -- against the Marlins. New York (44-37) is five games back of the first-place Washington Nationals in the NL East, 1 1/2 games ahead of third-place Miami (43-39).
"We've got the Marlins coming in, who are right on our heels and playing good," Collins said. "So we've got to get ready for (Monday)."
Mets right-hander Matt Harvey is scheduled to oppose Marlins right-hander Tom Koehler. Harvey is 2-3 with a 3.18 ERA in eight career starts against Miami, while Koehler is 2-6 with a 4.16 ERA in 18 appearances (15 starts) against New York.
The Marlins beat Harvey on 1-0 on June 5 in Miami even though he allowed just one run on four hits in seven innings.
Two days earlier, Koehler lost to the Mets. He gave up three runs in six innings as New York won 6-2.