Miami Dolphins at Los Angeles Rams game preview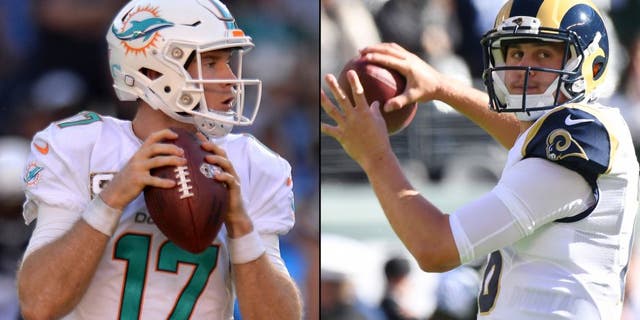 TV: FOX
Time: Sunday, 4:05 p.m.
Los Angeles quarterback Jared Goff makes his highly anticipated debut when the Rams host the Miami Dolphins on Sunday at the Los Angeles Coliseum.
The Rams' fan base has not-so-patiently awaited this moment, but the time has come for the No. 1 pick in this spring's NFL draft out of the University of California.
"I felt like this was the best time to go ahead and turn the keys over to Jared," Los Angeles coach Jeff Fisher said. "We're excited for him. He had a good day (at practice). He's into the plan, he's really excited.
"The position is not easy to play, as we've seen around the league. A lot of good quarterbacks took their lumps last weekend, but we got confidence in him, as the offense does. We'll get him prepared to play."
Goff replaces Case Keenum, who has not played well for most of the season as the offense scored 10 points or fewer in five games. The Rams (4-5) were held without an offensive touchdown for the third time this season in a 9-6 victory over the Jets in New York last week.
Los Angeles ranks last in scoring at 15.4 points per game and the Keenum-led offense is 31st in total offense with an average of 308 yards.
Goff makes his debut at home before the Rams play at New Orleans and at New England in Weeks 12 and 13.
The Dolphins (5-4) made Southern California their home this week instead of flying back and forth across the country after defeating the San Diego Chargers 31-24. Miami practiced in north San Diego County.
The Rams halted a four-game losing streak by defeating the Jets while the Dolphins are winners of four straight.
Miami's offense is finally hitting on all cylinders under first-year head coach Adam Gase but faces a tough challenge from the Los Angeles defense. The Gregg Williams-led unit ranks seventh in the NFL in total yards allowed at 327 per contest and 10th in points allowed at 19.2.
Dolphins quarterback Ryan Tannehill has played some of the best football of his career during the winning streak and has thrown 109 consecutive passes without an interception. The former Texas A&M star also has four touchdowns, zero interceptions and a 103.6 passer rating during the run. Tannehill's success has his coach raving about him.
Said Gase: "The guy (Tannehill) is a beast. He just stands back there. There was one of them he threw, I thought he was pressured a little bit, and he got rid of the ball and he comes in and he says, 'I have to stay in there.' He just has some kind of toughness where he just is going to stand in there. He takes a shot. He takes care of his body and he's able to bounce back up."
At the start of the 2016 season, no one except perhaps Dolphins running back Jay Ajayi's family members believed he'd be ranked sixth in the NFL in rushing and outgaining Rams running back Todd Gurley by 210 yards.
Ajayi averages 5.7 yards per carrry, good for 725 yards this season. Gurley's average is 3.1 yards. The going could be tough for Ajayi this week with left tackle (wrist) out and center Mike Puncey (hip) doubtful. Gurler has been bothered by a thigh injury.
While Ajayi has been a godsend to a Dolphins' offense that lost Arian Foster to injury, then retirement, Gurley and the Rams' rushing attack has been a disappointment to the team and Rams fans alike.
There may be hope for Gurley this week, though. The Dolphins are 30th in the NFL in rushing yards allowed at 128.8 per contest and with a rookie quarterback getting his first NFL start, the Rams hope Gurley can take advantage.